Volvo Trucks and Boliden collaborate on deployment of underground electric trucks for mining

29/03/23-FR-English-NL-footer
Volvo Trucks et Boliden collaborent au déploiement de camions électriques souterrains pour l'exploitation minière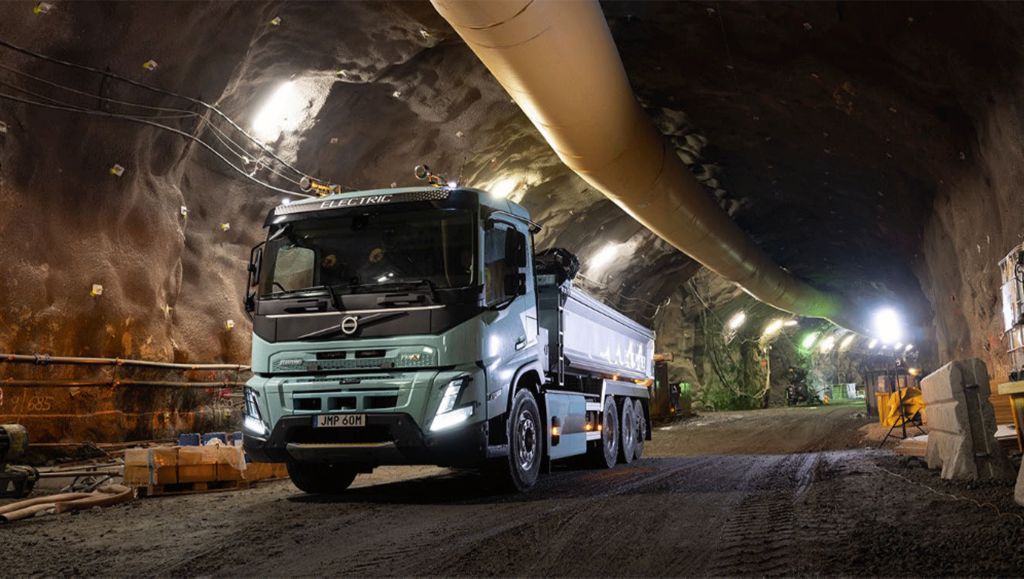 Volvo Trucks and Boliden are collaborating on the use of electric trucks in underground mining (image does not show the Kankberg mine).
Le groupe minier suédois Boliden devient l'un des premiers au monde à utiliser des camions électriques à batterie pour le transport souterrain lourd à partir de 2023. Dans les environnements miniers, les camions électriques peuvent offrir plusieurs avantages importants, notamment l'absence d'émissions d'échappement, un lieu de travail plus sûr, et des conditions de travail plus silencieuses.
L'industrie minière traverse aujourd'hui une période de changement rapide, de nombreux acteurs se tournant vers des méthodes de production plus durables pour fournir des métaux à faible empreinte climatique. Comme dans de nombreuses autres mines, les gaz d'échappement des véhicules diesel sont responsables de la majorité des émissions de dioxyde de carbone des mines de Boliden. L'entreprise s'est engagée à réduire ses émissions de CO2 de 40 % d'ici 2030*, et pour que Boliden atteigne ses objectifs climatiques, l'électrification des transports jouera un rôle essentiel.
Le nouvel accord de coopération entre Boliden et Volvo Trucks signifie que deux poids lourds électriques Volvo seront utilisés dans la mine Kankberg de Boliden, à l'extérieur de Skellefteå, dans le nord de la Suède. Si tous les camions de la mine étaient électriques, les émissions de CO2 de la mine pourraient être réduites de plus de 25 %.
« Il s'agit d'une collaboration passionnante dans un environnement aux exigences très strictes ; des pentes abruptes, des charges lourdes et de l'air humide qui use les véhicules », explique Jessica Lindholm, chef de projet chez Volvo Trucks. « La collaboration avec Boliden nous apportera des connaissances précieuses sur les performances des chariots électriques lorsqu'ils sont conduits sous terre et fournira des réponses aux questions sur la manière dont la chaîne cinématique et les batteries sont affectées. La réduction des émissions de dioxyde de carbone pour le transport minier signifie également que nous réduirons indirectement nos propres émissions de CO2, car les matières premières de l'industrie minière sont utilisées dans nos camions.
Le premier camion à desservir la mine de Kankberg, un Volvo FH Electric, sera utilisé pour transporter des boulons d'ancrage et d'autres équipements dans la mine et sera mis en service en 2023. Sur la base de l'expérience avec le premier camion, un autre Volvo FH Electric sera ensuite mis en service et utilisé pour le transport souterrain de roche et de minerai.
"Nous voyons la collaboration avec Volvo comme une opportunité fantastique de faire avancer la technologie électrique et en même temps d'apprendre comment adapter nos opérations pour une transition vers un transport souterrain sans énergie fossile. L'un des principaux avantages des camions est qu'ils contribueront à une mine plus durable, tant en termes d'émissions que d'environnement de travail pour nos employés », commente Dennis Forslund, chef de projet chez Boliden. "De plus, la quantité totale d'énergie consommée dans la mine sera inférieure car la propulsion électrique est plus économe en énergie qu'un moteur diesel, et il est possible de capter l'électricité régénérée lors du freinage moteur dans les pentes descendantes."
Volvo Trucks propose la gamme de camions électriques la plus large du secteur, avec six modèles de camions électriques produits en série, et est le leader du marché des camions électriques lourds en Europe et aux États-Unis. Les camions électriques de l'entreprise peuvent couvrir de nombreux besoins de transport différents, allant de la distribution urbaine et de l'élimination des déchets au transport régional et au trafic de construction. L'objectif de Volvo est que 50 % de ses camions neufs vendus en 2030 soient électriques.
À propos de Boliden
Boliden est une entreprise métallurgique axée sur le développement durable. Ses racines sont nordiques, son marché mondial. La compétence principale se situe dans les domaines de l'exploration, de l'exploitation minière, de la fusion et du recyclage des métaux. Boliden compte environ 6 000 employés et un chiffre d'affaires annuel d'environ 85 milliards de SEK. L'action est cotée dans le segment Large Cap du NASDAQ OMX Stockholm.
NJC.© Info Camions VOLVO
-----------------------------------------------------------------------------------------------------------------

29/03/23-English
Volvo Trucks and Boliden collaborate on deployment of underground electric trucks for mining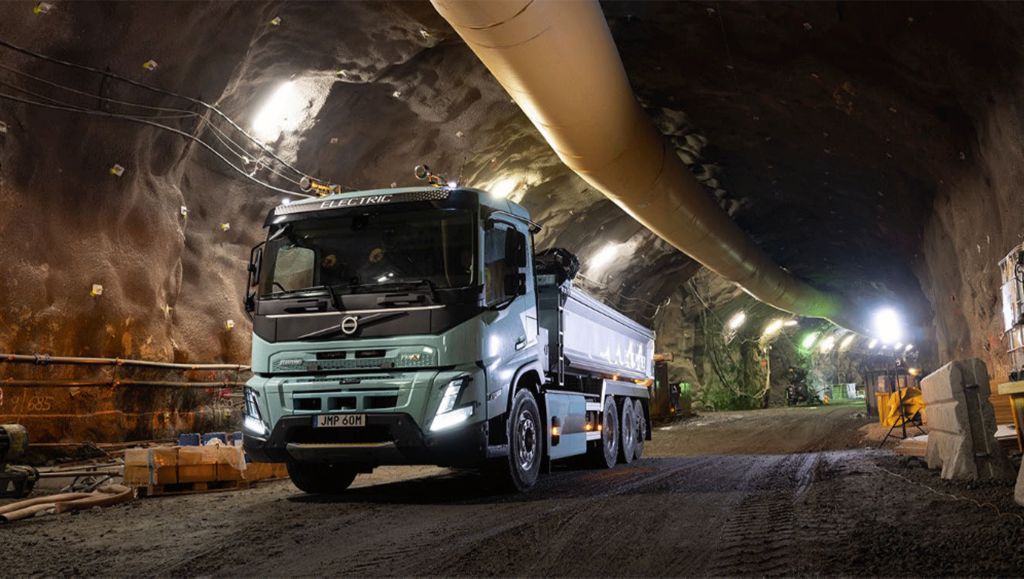 Volvo Trucks and Boliden are collaborating on the use of electric trucks in underground mining (image does not show the Kankberg mine).
The Swedish mining group Boliden is becoming one of the first in the world to start using battery-electric trucks for heavy underground transport starting 2023. In mining environments, the electric trucks can deliver several big advantages – including no exhaust emissions, a safer workplace, and quieter working conditions.
The mining industry is today going through a period of rapid change, with many players shifting to more sustainable production methods to provide metals with a lower climate footprint. Just like in many other mines, exhaust gases from diesel vehicles are responsible for the majority of the carbon dioxide emissions from Boliden's mines. The company is committed to reducing its CO2 emissions by 40 percent by 2030*, and for Boliden to achieve its climate goals, electrification of transport will play a critical role.
The new cooperation agreement between Boliden and Volvo Trucks means that two heavy, electric Volvo trucks will be used in Boliden's Kankberg mine, outside Skellefteå in northern Sweden. If all trucks in the mine were to be electric, the CO2 emissions from the mine could be reduced by more than 25 percent.
"This is an exciting collaboration in an environment with very tough demands; steep slopes, heavy loads and humid air that wears on the vehicles," says Jessica Lindholm, project manager at Volvo Trucks. "The collaboration with Boliden will give us valuable knowledge about the performance of electric trucks when driven underground, and provide answers to questions about how the driveline and batteries are affected. Reduced carbon dioxide emissions for mining transport also means that we, indirectly, will reduce our own CO2 emissions, because the mining industry's raw materials are used in our trucks."
The first truck to serve the Kankberg mine, a Volvo FH Electric, will be used to transport rock bolts and other equipment down into the mine and will be put into service in 2023. Based on the experience with the first truck, another Volvo FH Electric will later be put into operation and used for underground transport of rock and ore.
"We see the collaboration with Volvo as a fantastic opportunity to push the electric technology forward and at the same time learn how to adapt our operations for a transition to fossil-free underground transport. A major benefit of the trucks is that they will contribute to a more sustainable mine, both in terms of emissions and also the working environment for our employees", comments Dennis Forslund, project manager at Boliden. "In addition, the total amount of energy consumed in the mine will be lower as electric drive is more energy efficient than a diesel engine, and it is possible to capture the electricity regenerated during engine braking on downhill slopes."
Volvo Trucks offers the industry's widest range of electric trucks, with six electric truck models in series production, and is the market leader in heavy electric trucks in Europe and the USA. The company's electric trucks can cover many different transport needs, ranging from urban distribution and refuse disposal to regional transport and construction traffic. Volvo's goal is that 50% of its new trucks sold in 2030 should be electric.
About Boliden
Boliden is a metals company with a focus on sustainable development. Its roots are Nordic, its market global. The core competence lies within the fields of exploration, mining, smelting and metal recycling. Boliden has around 6,000 employees and annual sales of approximately SEK 85 billion. The share is listed in the Large Cap segment on NASDAQ OMX Stockholm.
NJC.© Info VOLVO Trucks
--------------------------------------------------------------------------------------------------------------------

29/03/23-NL
Volvo Trucks en Boliden werken samen aan de inzet van ondergrondse elektrische trucks voor de mijnbouw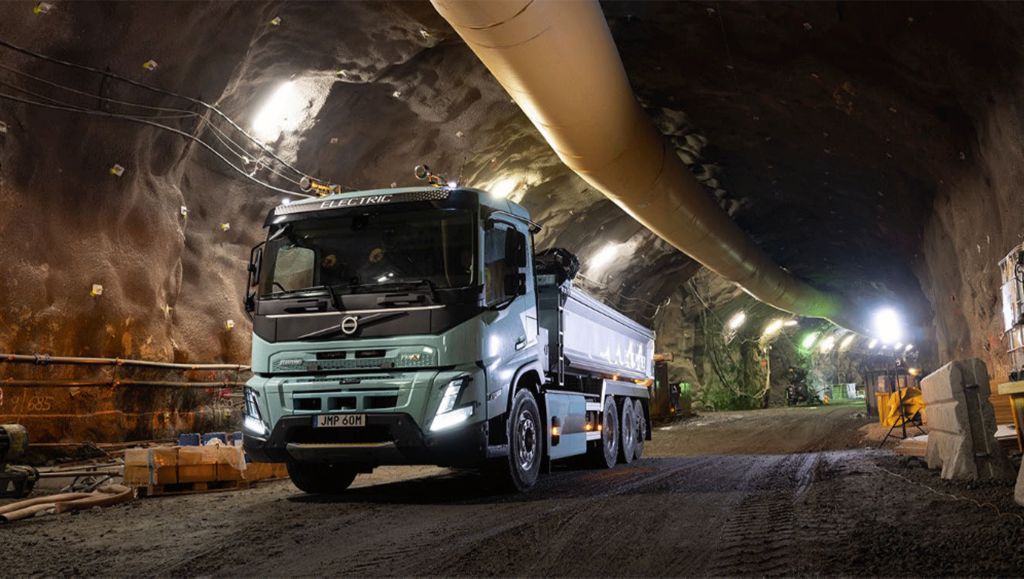 Volvo Trucks and Boliden are collaborating on the use of electric trucks in underground mining (image does not show the Kankberg mine).
Het Zweedse mijnbouwconcern Boliden gaat als een van de eersten ter wereld batterij-elektrische vrachtwagens gebruiken voor zwaar ondergronds transport vanaf 2023. In mijnbouwomgevingen kunnen de elektrische vrachtwagens verschillende grote voordelen opleveren, waaronder geen uitlaatemissies, een veiligere werkplek, en stillere werkomstandigheden.
De mijnbouwindustrie maakt vandaag een periode van snelle veranderingen door, waarbij veel spelers overstappen op duurzamere productiemethoden om metalen met een kleinere ecologische voetafdruk te leveren. Net als in veel andere mijnen zijn uitlaatgassen van dieselvoertuigen verantwoordelijk voor het grootste deel van de kooldioxide-uitstoot van de mijnen van Boliden. Het bedrijf zet zich in om zijn CO2-uitstoot tegen 2030* met 40 procent te verminderen, en om de klimaatdoelstellingen van Boliden te halen, zal elektrificatie van transport een cruciale rol spelen.
De nieuwe samenwerkingsovereenkomst tussen Boliden en Volvo Trucks houdt in dat twee zware, elektrische Volvo-trucks zullen worden ingezet in de Kankberg-mijn van Boliden, buiten Skellefteå in Noord-Zweden. Als alle vrachtwagens in de mijn elektrisch zouden zijn, zou de CO2-uitstoot van de mijn met meer dan 25 procent kunnen worden verminderd.
"Dit is een opwindende samenwerking in een omgeving met zeer zware eisen; steile hellingen, zware ladingen en vochtige lucht die op de voertuigen slijt", zegt Jessica Lindholm, projectmanager bij Volvo Trucks. "De samenwerking met Boliden levert ons waardevolle kennis op over de prestaties van elektrische trucks bij ondergronds rijden, en geeft antwoord op vragen over hoe de aandrijflijn en batterijen worden beïnvloed. Een lagere CO2-uitstoot voor mijnbouwtransport betekent ook dat we indirect onze eigen CO2-uitstoot verminderen, omdat de grondstoffen van de mijnindustrie in onze vrachtwagens worden gebruikt."
De eerste vrachtwagen die de Kankberg-mijn bedient, een Volvo FH Electric, zal worden gebruikt om rotsbouten en ander materieel de mijn in te vervoeren en zal in 2023 in gebruik worden genomen. Op basis van de ervaring met de eerste vrachtwagen, een andere Volvo FH Electric later in gebruik genomen en gebruikt voor ondergronds transport van gesteente en erts.
"We zien de samenwerking met Volvo als een fantastische kans om de elektrische technologie vooruit te helpen en tegelijkertijd te leren hoe we onze activiteiten kunnen aanpassen voor een transitie naar fossielvrij ondergronds transport. Een groot voordeel van de trucks is dat ze bijdragen aan een duurzamere mijn, zowel qua uitstoot als qua werkomgeving voor onze medewerkers", zegt Dennis Forslund, projectmanager bij Boliden. "Bovendien zal de totale hoeveelheid energie die in de mijn wordt verbruikt lager zijn, aangezien elektrische aandrijving energiezuiniger is dan een dieselmotor, en het is mogelijk om de elektriciteit op te vangen die wordt geregenereerd tijdens het afremmen op de motor op hellingen."
Volvo Trucks biedt het grootste assortiment elektrische trucks in de sector, met zes elektrische truckmodellen in serieproductie, en is marktleider op het gebied van zware elektrische trucks in Europa en de VS. De elektrische vrachtwagens van het bedrijf kunnen veel verschillende transportbehoeften dekken, variërend van stadsdistributie en afvalverwerking tot regionaal transport en bouwverkeer. Het doel van Volvo is dat 50% van de nieuwe trucks die in 2030 worden verkocht elektrisch moet zijn.
Over Boliden
Boliden is een metaalbedrijf met focus op duurzame ontwikkeling. De wortels zijn Scandinavisch, de markt wereldwijd. De kerncompetentie ligt op het gebied van exploratie, mijnbouw, smelten en metaalrecycling. Boliden heeft ongeveer 6.000 werknemers en een jaaromzet van ongeveer SEK 85 miljard. Het aandeel is genoteerd in het Large Cap-segment op NASDAQ OMX Stockholm.
NJC.© Info VOLVO Trucks
------------------------------------------------------------------------------------------------------------------