Volvo Trucks launches more electric trucks
14/12/22-FR-English-NL-footer
Volvo lance plus de camions électriques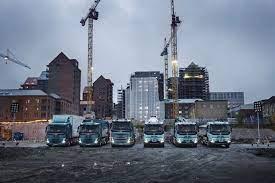 Image-Volvo's new electric rigid trucks can handle a wide range of transport assignments with zero tailpipe emissions and less noise.
Produisant déjà la gamme électrique la plus complète de l'industrie mondiale des camions, Volvo Trucks élargit désormais son offre avec l'introduction de versions rigides de ses camions électriques lourds : le Volvo FH, le Volvo FM et le Volvo FMX. Cela facilite encore plus l'adoption des véhicules électriques par les entreprises de transport dans les zones urbaines et régionales.
Grâce aux multiples options de batterie, de cabine et de châssis, les nouveaux camions porteurs lourds peuvent être conçus pour transporter des superstructures électriques pour un large éventail de missions de transport spécialisées, y compris la distribution de marchandises, la collecte des ordures et les travaux de construction. La production des nouvelles variantes débutera au premier trimestre 2023.
« Avec ces nouveaux camions électriques, nous facilitons plus que jamais le passage à l'électricité d'un nombre encore plus important de clients et le passage des villes à des véhicules à zéro émission pour pratiquement tous les flux de transport. Nos clients peuvent faire construire ces camions sur mesure pour leurs opérations spécifiques, afin de réduire les émissions tout en obtenant les mêmes fonctionnalités que le camion diesel qu'ils utilisent aujourd'hui », explique Roger Alm, président de Volvo Trucks.
Camions électriques - plus attrayants pour les conducteurs et les villes
Les camions diesel avec de lourdes charges sont monnaie courante dans de nombreuses villes. Il est désormais possible d'utiliser à la place des camions électriques pour ces missions. En plus de ne produire aucune émission de gaz d'échappement, les camions électriques offrent un meilleur environnement de travail pour les conducteurs car ils sont silencieux, ce qui contribue également à une ville plus agréable à vivre pour les résidents.
Amélioration de la flexibilité client
Les nouveaux camions rigides ont une capacité de batterie comprise entre 180 et 540 kWh. Ceci, combiné au nombre de batteries appliquées à un camion, offre une grande flexibilité et un large éventail d'opérations potentielles.
« Ces camions peuvent gérer toutes sortes de transports, des charges légères aux charges lourdes. Les clients peuvent choisir la capacité de batterie exacte dont ils ont besoin pour leurs missions, et en ne transportant pas plus de batteries à bord que nécessaire, la charge utile peut augmenter. En bref, nous avons la solution de transport électrique optimale et la plus rentable, quelle que soit la tâche », déclare Roger Alm, président de Volvo Trucks.
Volvo Trucks est le seul constructeur mondial de camions à proposer dès aujourd'hui une gamme complète de camions électriques en série. L'objectif de l'entreprise est que la moitié de ses ventes mondiales de camions soient électriques d'ici 2030 au plus tard.
*Camions avec un seul châssis rigide et des applications intégrées telles que des grues, des compacteurs de déchets et des bétonnières.
Les porteurs électriques Volvo FH, FM et FMX peuvent être équipés comme suit :
Mise en vente en décembre 2022, production en série début mars 2023 :
Chaîne cinématique : 490 kW
Unité d'entraînement : 3 moteurs électriques
Batterie : 450-540 kWh, 5-6 batteries
Cabine : Sleeper, High, X-High sleeper cab
Empattement : 4300-6700
Configurations d'essieu : 4x2R, 6x2R, 6x4R, 8x2R et 8x4R
Prise de force : ePTO électrique, prise de force de transmission et prise de force électromécanique
Mise en vente en février, début de la production en série en mai 2023 :
Chaîne cinématique : 330 kW
Unité d'entraînement : 2 moteurs électriques
Batterie : 360 kWh, 4 batteries
Cabine : cabine de jour
Empattement : 3900-6700
Mise en vente en juin, début de la production en série en septembre 2023 :
Batterie : 180-270 kWh, 2-3 batteries
NJC.© Info VOLVO Trucks
-----------------------------------------------------------------------------------------------------------------------
14/12/22-English
Volvo launches more electric trucks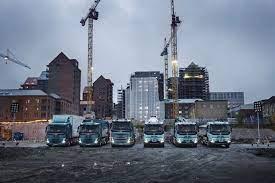 Image-Volvo's new electric rigid trucks can handle a wide range of transport assignments with zero tailpipe emissions and less noise.
Already producing the most complete electric line up in the global truck industry, Volvo Trucks is now expanding its offering with the introduction of rigid versions of its heavy electric trucks: the Volvo FH, Volvo FM and Volvo FMX. This makes it even easier for transport companies to adopt electric vehicles in urban and regional areas.
Thanks to multiple battery, cab and chassis options, the new heavy rigid trucks can be designed to carry electric superstructures for a wide range of specialized transport assignments, including goods distribution, refuse collection and construction work. Production of the new variants will begin in the first quarter of 2023.

"With these new, electric trucks we are making it easier than ever for even more customers to go electric, and for cities to shift to zero-emission vehicles for virtually all transport flows. Our customers can have these trucks custom-built for their specific operation, to cut emissions while getting the same functionality as the diesel truck they are using today," explains Roger Alm, President of Volvo Trucks.

Electric trucks - more attractive to both drivers and cities
Diesel trucks with heavy loads are a common sight in many cities. Now it's possible to instead use electric trucks for these assignments. Besides producing zero exhaust emissions, electric trucks provide a better working environment for drivers as they are quiet – which also contributes to a more livable city for residents.

Improved customer flexibility
The new rigid trucks have a battery capacity between 180-540 kWh. This, together with the number of batteries applied to a truck, provides for great flexibility and a wide range of potential operations.

"These trucks can handle all kinds of transports, from lighter to heavy loads. Customers can choose the exact battery capacity they need for their assignments, and by not carrying more batteries onboard than needed, the payload can increase. In short, we have the optimal and most cost-efficient electric transport solution, no matter what the task is," says Roger Alm, President of Volvo Trucks.

Volvo Trucks is the only global truck manufacturer with a full range of electric trucks in series production already today. The company's target is that half of its global total truck sales will be electric by 2030 at the latest.

*Trucks with a single rigid chassis and built-on applications such as cranes, refuse compactors and cement mixers.
Volvo FH, FM and FMX Electric rigids can be equipped as follows:
Released for sale in December 2022, serial production start March 2023:
Driveline: 490 kW
Drive unit: 3 electric motors
Battery: 450-540 kWh, 5-6 batteries
Cab: Sleeper, High, X-High sleeper cab
Wheelbase: 4300-6700
Axle Configurations: 4x2R, 6x2R, 6x4R, 8x2R, and 8x4R
PTO: Electric ePTO, Transmission PTO and Electro-Mechanical PTO
Released for sale in February, serial production start May 2023:
Driveline: 330 kW
Drive unit: 2 electric motors
Battery: 360 kWh, 4 batteries
Cab: Day cab
Wheelbase: 3900-6700

Released for sale in June, serial production start September 2023:
Battery: 180-270 kWh, 2-3 batteries
NJC.© Info VOLVO Trucks
--------------------------------------------------------------------------------------------------------------------
14/12/22-NL
Volvo lanceert meer elektrische trucks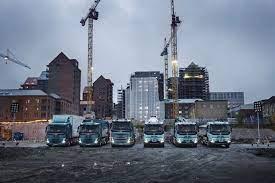 Volvo's new electric rigid trucks can handle a wide range of transport assignments with zero tailpipe emissions and less noise.
Volvo Trucks produceert al de meest complete elektrische line-up in de wereldwijde truckindustrie en breidt nu zijn aanbod uit met de introductie van starre versies van zijn zware elektrische trucks: de Volvo FH, Volvo FM en Volvo FMX. Dit maakt het voor transportbedrijven nog makkelijker om elektrisch te rijden in stedelijke en regionale gebieden.
Dankzij meerdere batterij-, cabine- en chassisopties kunnen de nieuwe zware bakwagens worden ontworpen om elektrische bovenbouw te vervoeren voor een breed scala aan gespecialiseerde transportopdrachten, waaronder goederendistributie, vuilnisophaaldienst en bouwwerkzaamheden. De productie van de nieuwe varianten start in het eerste kwartaal van 2023.
"Met deze nieuwe, elektrische vrachtwagens maken we het voor nog meer klanten gemakkelijker dan ooit om elektrisch te gaan en voor steden om voor vrijwel alle transportstromen over te stappen op emissievrije voertuigen. Onze klanten kunnen deze trucks op maat laten bouwen voor hun specifieke activiteiten, om de uitstoot te verminderen en tegelijkertijd dezelfde functionaliteit te krijgen als de dieseltruck die ze vandaag gebruiken", legt Roger Alm, President van Volvo Trucks, uit.
Elektrische vrachtwagens - aantrekkelijker voor zowel chauffeurs als steden
Dieseltrucks met zware ladingen zijn in veel steden een normaal verschijnsel. Nu is het mogelijk om in plaats daarvan elektrische vrachtwagens in te zetten voor deze opdrachten. Naast het produceren van geen uitlaatgassen, bieden elektrische vrachtwagens een betere werkomgeving voor chauffeurs omdat ze stil zijn - wat ook bijdraagt aan een leefbare stad voor de inwoners.
Verbeterde klantflexibiliteit
De nieuwe bakwagens hebben een batterijcapaciteit tussen de 180-540 kWh. Dit, samen met het aantal batterijen dat op een vrachtwagen wordt toegepast, zorgt voor een grote flexibiliteit en een breed scala aan mogelijke bewerkingen.
"Deze vrachtwagens kunnen alle soorten transporten aan, van lichte tot zware ladingen. Klanten kunnen de exacte batterijcapaciteit kiezen die ze nodig hebben voor hun opdrachten, en door niet meer batterijen aan boord te nemen dan nodig is, kan het laadvermogen toenemen. Kortom, we hebben de optimale en meest kostenefficiënte oplossing voor elektrisch transport, wat de taak ook is", zegt Roger Alm, President van Volvo Trucks.
Volvo Trucks is de enige wereldwijde vrachtwagenfabrikant met een volledige reeks elektrische vrachtwagens die vandaag al in serieproductie worden genomen. Het doel van het bedrijf is dat uiterlijk in 2030 de helft van de wereldwijde totale vrachtwagenverkoop elektrisch zal zijn.
*Vrachtwagens met één enkelvoudig chassis en opbouwtoepassingen zoals kranen, afvalpersen en cementmixers.
Volvo FH, FM en FMX Electric bakwagens kunnen als volgt worden uitgerust:
Vrijgegeven voor verkoop in december 2022, start serieproductie maart 2023:
Aandrijflijn: 490 kW
Aandrijving: 3 elektromotoren
Batterij: 450-540 kWh, 5-6 batterijen
Cabine: Sleeper, High, X-High slaapcabine
Wielbasis: 4300-6700
Asconfiguraties: 4x2R, 6x2R, 6x4R, 8x2R en 8x4R
PTO: elektrische ePTO, transmissie-PTO en elektromechanische PTO
Vrijgegeven voor verkoop in februari, start serieproductie mei 2023:
Aandrijflijn: 330 kW
Aandrijving: 2 elektromotoren
Batterij: 360 kWh, 4 batterijen
Cabine: Dagcabine
Wielbasis: 3900-6700
Uitgebracht voor verkoop in juni, start serieproductie september 2023:
Batterij: 180-270 kWh, 2-3 batterijen
NJC.© Info VOLVO Trucks
-------------------------------------------------------------------------------------------------------------