Wacker Neuson Premieres New Products at ConExpo-Con/AGG

09/02/23-FR-English-NL-footer
Wacker Neuson présente de nouveaux produits à ConExpo-Con/AGG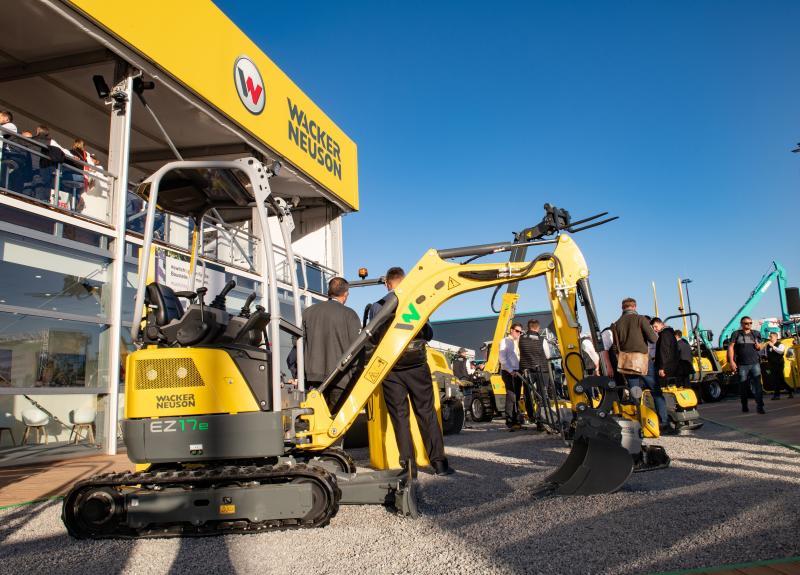 Image- Wacker Neuson
Wacker Neuson invite les participants de ConExpo-Con/AGG 2023 à visiter le stand W43501 pour découvrir une variété de nouveaux produits présentés par le fabricant d'équipements. Le thème du kiosque « Tout ce qu'il faut pour relever les défis auxquels vous faites face », célèbre le dévouement de l'entreprise à aider les entrepreneurs à relever leurs défis quotidiens sur le chantier.
L'élément central du stand de Wacker Neuson est une pelle hydraulique de 1,7 tonne, la EZ17e.
« Cette pelle zéro émission a été un succès sur le marché européen et sera lancée en Amérique du Nord fin 2023 ou début 2024 », a expliqué Gert Reichetseder, président et chef de la direction de Wacker Neuson Americas.
"Cette machine fournira une solution aux entrepreneurs et aux maisons de location à la recherche d'une excavatrice silencieuse et à zéro émission pour étendre leurs activités à de nouvelles applications, tout en respectant les réglementations environnementales", a ajouté Reichetseder.
En plus de l'EZ17e, Wacker Neuson mettra davantage en avant son portefeuille zéro émission pour les équipements de compactage et de consolidation du béton alimentés par batterie dans la zone "Meet the Future" du stand. Cela inclut le lancement de la première plaque réversible alimentée par batterie avec entraînement direct, l'APU3050e.
Toutes les plaques et les pilonneuses alimentées par batterie de Wacker Neuson, ainsi que son vibreur à béton sont alimentés par le système de batterie et de chargeur Battery One. Cette nouvelle marque indépendante des fournisseurs est une solution unique, rendant plus pratique l'utilisation d'équipements de construction à zéro émission sur le chantier, selon le fabricant.
Parmi les autres pelles qui seront présentées, citons la toute nouvelle EZ26 de Wacker Neuson, une pelle sans queue de 2,6 tonnes et la pelle sur chenilles ET58 de 5,8 tonnes. Ces deux machines offrent aux entrepreneurs toutes les innovations les plus récentes en matière de confort, de performances et d'efficacité.
Les participants ne voudront pas non plus manquer les nouveaux ajouts de Wacker Neuson à la famille des chargeuses utilitaires sur chenilles.
« Le SM60 et le SM120 seront présentés en première au salon et sont d'excellents compléments au très réussi mini chargeur sur chenilles SM100 qui a été introduit en 2021 », a déclaré Reichetseder.
Ces chargeuses sur chenilles utilitaires polyvalentes à conducteur debout sont conçues pour le confort de l'opérateur, la facilité d'utilisation et conçues pour réduire les coûts de maintenance et le coût total de possession.
De plus, la toute nouvelle chargeuse compacte sur chenilles de Wacker Neuson, la ST27, sera dévoilée aux entrepreneurs. Cet ajout à la gamme de chargeurs est le plus petit modèle de la gamme CTL de l'entreprise et favorise une visibilité et une productivité accrues.
"Nous sommes impatients de rencontrer les entrepreneurs et les revendeurs lors du salon pour partager nos nouveaux produits ainsi que les piliers du chantier d'origine pour lesquels Wacker Neuson est connu", a déclaré Reichetseder.
NJC.© Infos WACKER NEUSON
---------------------------------------------------------------------------------------------------------------

09/02/23-English
Wacker Neuson Premieres New Products at ConExpo-Con/AGG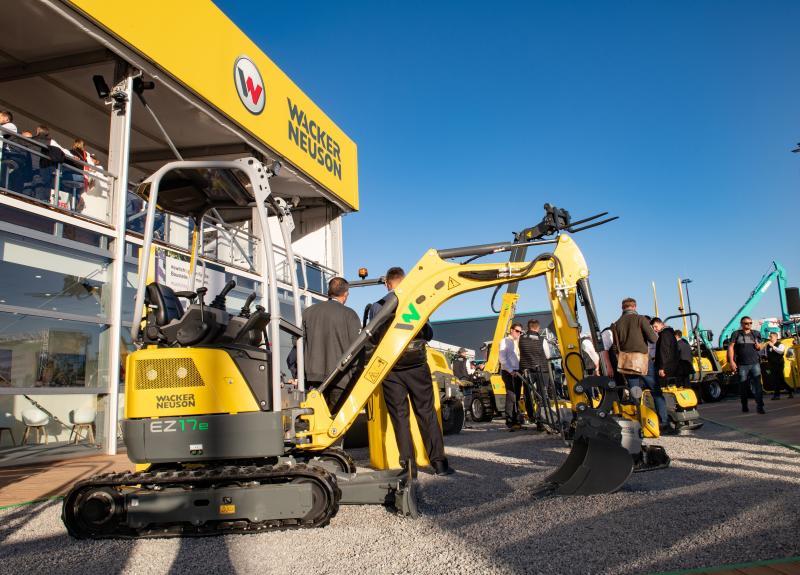 Image- Wacker Neuson
Wacker Neuson is inviting attendees of ConExpo-Con/AGG 2023 to visit Booth W43501 to preview a variety of new products being introduced by the equipment manufacturer. The booth's theme "All it takes for the challenges you face," celebrates the company's dedication to helping contractors meet their daily challenges on the job site.
A central focus of Wacker Neuson's booth is a 1.7-ton battery-powered excavator, the EZ17e.
"This zero-emission excavator has been a success in the European market and will launch in North America in late 2023 or early 2024," explained Gert Reichetseder, president and CEO, Wacker Neuson Americas.
"This machine will provide a solution for contractors and rental houses looking for a quiet, zero-emission excavator to expand their businesses into new applications, while meeting environmental regulations," Reichetseder added.
In addition to the EZ17e, Wacker Neuson will further highlight its zero-emission portfolio for battery-powered compaction and concrete consolidation equipment in the "Meet the Future" area of the booth. This includes the debut of the industry's first battery-powered reversible plate with direct drive, the APU3050e.
All of Wacker Neuson's battery-powered plates and rammer, as well as its concrete vibrator are powered by the Battery One battery and charger system. This new vendor-agnostic brand is a single solution, making the use of zero-emission construction equipment on the job site more practical, according to the manufacturer.
Other excavators to be showcased will include Wacker Neuson's all new EZ26, a 2.6-ton zero tail excavator and the 5.8-ton ET58 tracked excavator. Both of these machines offer contractors all the newest innovations for comfort, performance and efficiency.
Attendees also won't want to miss Wacker Neuson's new additions to the utility track loader family.
"The SM60 and SM120 will be premiered at the show and are great complements to the very successful SM100 mini track loader that was introduced in 2021," said Reichetseder.
These versatile, stand-on utility track loaders are designed for operator comfort, ease of operation and designed to reduce maintenance costs and total cost of ownership.
Additionally, the newest compact track loader from Wacker Neuson, the ST27 will be unveiled to contractors. This addition to the loader line is the smallest model in the company's CTL line-up and promotes enhanced visibility and productivity.
"We look forward to meeting with contractors and dealers at the show to share our new products plus the original job site mainstays Wacker Neuson is known for," Reichetseder said.
NJC.© Info WACKER NEUSON
------------------------------------------------------------------------------------------------------------------

09/02/23-NL
Wacker Neuson presenteert nieuwe producten op ConExpo-Con/AGG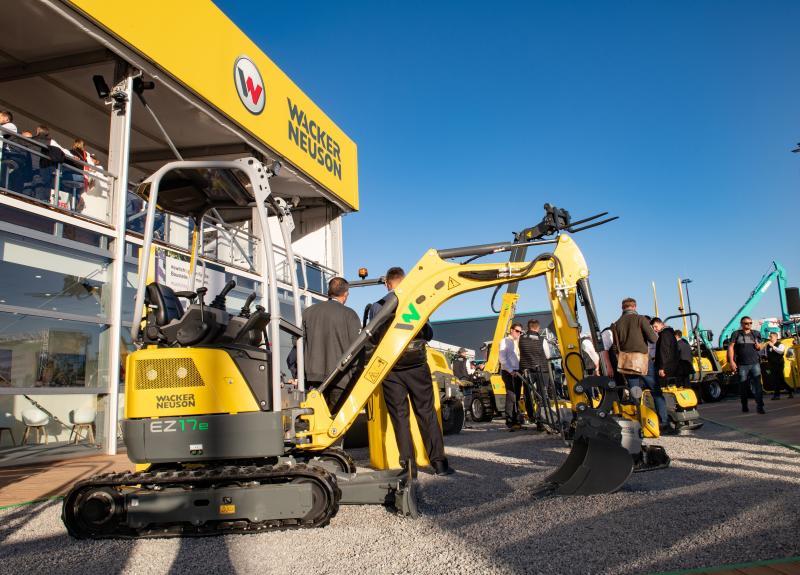 Image- Wacker Neuson
Wacker Neuson nodigt deelnemers van ConExpo-Con/AGG 2023 uit om stand W43501 te bezoeken om een aantal nieuwe producten te bekijken die door de fabrikant van de apparatuur worden geïntroduceerd. Het thema van de stand "Alles wat nodig is voor de uitdagingen waarmee u wordt geconfronteerd", viert de toewijding van het bedrijf om aannemers te helpen hun dagelijkse uitdagingen op de bouwplaats het hoofd te bieden.
Centraal in de stand van Wacker Neuson staat een 1,7-tons batterij-aangedreven graafmachine, de EZ17e.
"Deze emissievrije graafmachine is een succes op de Europese markt en zal eind 2023 of begin 2024 in Noord-Amerika op de markt komen", aldus Gert Reichetseder, president en CEO van Wacker Neuson Americas.
"Deze machine zal een oplossing bieden voor aannemers en verhuurbedrijven die op zoek zijn naar een stille, emissievrije graafmachine om hun bedrijf uit te breiden naar nieuwe toepassingen, terwijl ze voldoen aan de milieuvoorschriften", voegde Reichetseder toe.
Naast de EZ17e zal Wacker Neuson zijn emissievrije portfolio voor accu-aangedreven verdichtings- en betonconsolidatie-apparatuur in het "Meet the Future"-gedeelte van de stand verder onder de aandacht brengen. Dit omvat het debuut van de eerste op batterijen werkende omkeerbare plaat in de branche met directe aandrijving, de APU3050e.
Alle accu-aangedreven trilplaten en trilstampers van Wacker Neuson, evenals de betontrilnaald, worden aangedreven door het Battery One accu- en laadsysteem. Dit nieuwe leveranciersonafhankelijke merk is een enkele oplossing, waardoor het gebruik van emissievrije bouwmachines op de bouwplaats praktischer wordt, aldus de fabrikant.
Andere graafmachines die zullen worden tentoongesteld zijn onder meer de geheel nieuwe EZ26 van Wacker Neuson, een 2,6-tons zero-tail graafmachine en de 5,8-tons ET58-rupsgraafmachine. Beide machines bieden aannemers alle nieuwste innovaties op het gebied van comfort, prestaties en efficiëntie.
De aanwezigen zullen ook de nieuwe toevoegingen van Wacker Neuson aan de familie van utiliteitsrupsladers niet willen missen.
"De SM60 en SM120 zullen tijdens de show in première gaan en vormen een geweldige aanvulling op de zeer succesvolle SM100 mini-rupslader die in 2021 werd geïntroduceerd", aldus Reichetseder.
Deze veelzijdige, staande utiliteitsrupsladers zijn ontworpen met het oog op comfort voor de machinist, bedieningsgemak en zijn ontworpen om de onderhoudskosten en de totale eigendomskosten te verlagen.
Daarnaast zal de nieuwste compacte rupslader van Wacker Neuson, de ST27, aan aannemers worden onthuld. Deze toevoeging aan de laderlijn is het kleinste model in het CTL-assortiment van het bedrijf en bevordert beter zicht en productiviteit.
"We kijken ernaar uit om aannemers en dealers op de show te ontmoeten om onze nieuwe producten te delen, plus de originele pijlers waar Wacker Neuson bekend om staat", aldus Reichetseder.
NJC.© Info WACKER NEUSON
--------------------------------------------------------------------------------------------------------------