Western Star Introduces All-New 57X
16/08/22-FR-English-NL-footer
Western Star présente le tout nouveau 57X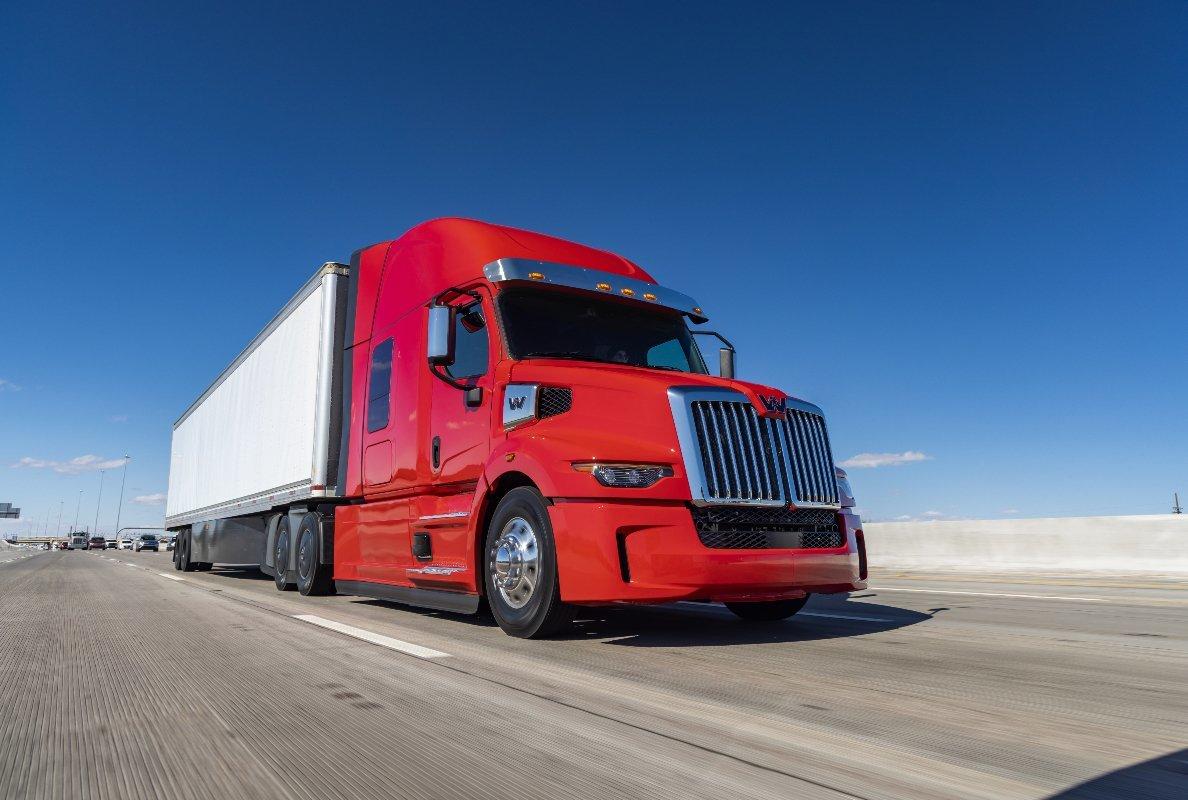 Western Star Introduces All-New 57X IMAGE SOURCE: Daimler Truck AG
Le nouveau camion est le véhicule routier le plus avancé de Western Star
Western Star a présenté aujourd'hui le dernier ajout à sa série X, le tout nouveau Western Star 57X. Le camion routier rejoint les nouveaux Western Star 47X et 49X pour compléter une gamme spécialement conçue pour la robustesse, la productivité et l'efficacité.
"Avec l'ajout du 57X, la nouvelle série X de Western Star passe désormais au niveau supérieur", a déclaré David Carson, vice-président senior, ventes et marketing, Daimler Truck North America (DTNA). "Alors que les 47X et 49X servent le client professionnel, le 57X ​​a été conçu, conçu et fabriqué spécifiquement pour les propriétaires-exploitants et les petites flottes à la recherche d'un camion qui offre la sécurité, l'efficacité, la durabilité et le prestige que seul Western Star peut offrir."
Atteint de nouveaux sommets d'efficacité
Le 57X ​​est le camion le plus économe en carburant que Western Star ait jamais construit. Il est 5,8 % plus économe en carburant que son prédécesseur, le 5700XE, tout en offrant la fiabilité et la productivité légendaires de Western Star.
Le 57X ​​offre aux propriétaires un choix de modèles de moteurs Detroit. Les moteurs DD13 Gen 5, DD15 Gen 5 et DD16 offrent tous des performances et une économie de carburant maximales éprouvées sur route.
Le 57X ​​est disponible avec les composants du groupe motopropulseur Detroit, notamment les transmissions Detroit DT12 Direct ou Overdrive AMT, qui réduisent la consommation de carburant et augmentent l'efficacité tout en améliorant les changements de vitesse et en réduisant l'usure. La gestion intelligente du groupe motopropulseur anticipe le terrain et s'adapte aux conditions de la route pour optimiser davantage l'efficacité. Les essieux tandem directeurs avant Detroit et arrière à rapport de vitesse élevé disponibles contribuent également à l'efficacité énergétique et aux performances tout en réduisant l'entretien.
L'efficacité du groupe motopropulseur est complétée par de nouvelles améliorations aérodynamiques de la cabine et du châssis qui aident le 57X ​​à parcourir kilomètre après kilomètre avec une consommation de carburant moindre :
Nouveau capot et pare-chocs aérodynamiques avec conduits d'aération.
Carénages de toit et de châssis pour la Day Cab, 60 pouces et 72 pouces Mid Roof.
Carénages latéraux de châssis avec jupes flexibles spécialement conçus pour combler les espaces entre la cabine et le châssis.
Carénage de toit aérodynamique ou déflecteur aérodynamique réglable pour cabine courte.
Extensions latérales de couchette de 24 pouces (12 pouces pour les cabines de jour).
Les carénages optimisés des roues motrices lissent le flux d'air lorsqu'il passe devant la remorque.
Enjoliveurs de roues motrices FlowBelow moulés en couleur.
Équipé de la meilleure technologie de sa catégorie
Le nouveau 57X est équipé de fonctions de sécurité et de connectivité de pointe conçues pour protéger le conducteur, les piétons et les autres automobilistes, tout en fournissant à l'opérateur des informations cruciales en temps réel sur le véhicule, ce qui permet de minimiser les coûts d'assurance et les temps d'arrêt pour les réparations liées aux accidents.
Il est livré de série avec le meilleur système de sécurité Detroit Assurance 5.0 de sa catégorie avec Active Brake Assist 5, un système toujours activé qui fusionne la technologie de la caméra et du radar pour détecter les obstacles mobiles devant le camion et peut déployer un freinage complet. Avec Detroit Assurance, il y a aussi le régulateur de vitesse adaptatif (ACC à 0 mph), qui maintient le camion à une distance de sécurité et offre une expérience de conduite plus confiante. Detroit Assurance 5.0 propose également en option l'assistant de voie active (ALA), qui comprend l'assistance au maintien de voie, l'arrêt automatique, la protection de sortie de voie et l'assistance à la direction. Steer Assist peut aider à réduire la fatigue sur la route et facilite grandement les manœuvres dans les chantiers. De plus, 57X lance Active Side Guard Assist (ASGA), une première technologie de l'industrie conçue pour atténuer les problèmes de côté aveugle lors des virages à droite.
Standard Detroit Connect propose une suite complète et innovante de systèmes de connectivité qui fournissent des informations exploitables en temps réel sur les performances des véhicules et permettent une meilleure prise de décision, ce qui réduit les temps d'arrêt et améliore les résultats pour les propriétaires.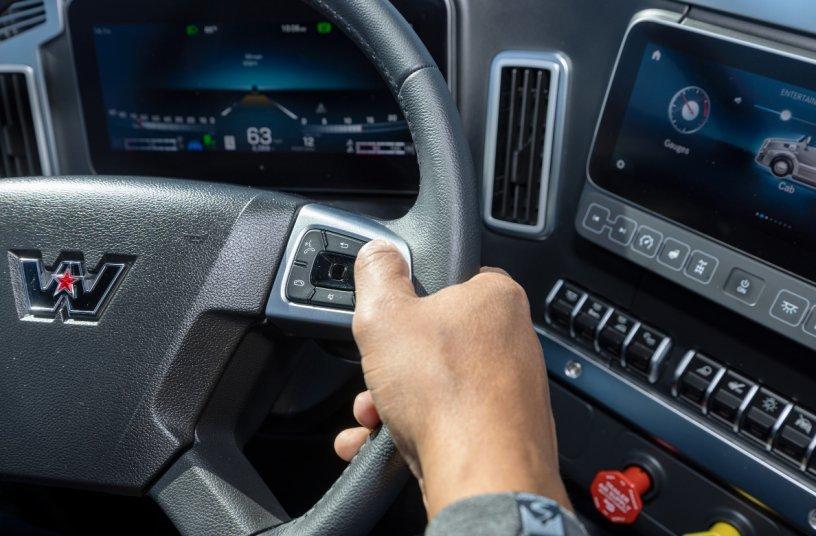 Western Star Introduces All-New 57X IMAGE SOURCE: Daimler Truck AG
Tout nouveau pour les camions Western Star, un affichage numérique sur le tableau de bord comprend un groupe d'instruments configurable pour offrir une expérience similaire aux voitures de luxe d'aujourd'hui. Les écrans plus grands affichent des options de divertissement telles que Apple CarPlay et Android Auto (accessibles avec un smartphone), ainsi que des informations sur le véhicule de Detroit Assurance. Les commandes intégrées au volant permettent au conducteur de contrôler la plupart des fonctions de divertissement et d'information sans lâcher le volant.
Le nouveau 57X embrasse pleinement le style distinctif de la marque et un héritage de fiabilité robuste. Les conducteurs peuvent se détendre en sachant qu'ils roulent sur la technologie DTNA éprouvée sur des millions de kilomètres d'autoroute.
Quatre options de cabine sont disponibles pour s'adapter à toutes les applications, y compris la cabine courte, le toit intermédiaire de 60 pouces, le toit intermédiaire de 72 pouces ou la stratosphère de 72 pouces. Tous offrent un confort maximal avec des sièges en cuir et, sur les modèles couchette, un salon conducteur amélioré en option avec table et lit escamotable pour un meilleur repos et des temps d'arrêt. Un système CVC facile à utiliser, le meilleur de sa catégorie, une isolation améliorée et un pare-brise plus grand contribuent à une expérience de conduite plus confortable.
Un ensemble d'éclairage extérieur entièrement à DEL donne au 57X un look distinctif sur la route tout en offrant un meilleur éclairage de la route pour une conduite plus sûre et des phares à DEL intelligents à deux étages avec capteurs qui font rapidement fondre la glace ou éliminent la condensation. L'éclairage intérieur à LED offre de meilleures performances et une meilleure longévité.
De nombreuses options de personnalisation et de finition brillante sont disponibles pour adapter le camion aux besoins du propriétaire ou du conducteur.
La production devrait commencer au début du premier trimestre 2023 à l'usine de fabrication de camions de DTNA à Cleveland (N.C.).
NJC.© Info Daimler Truck AG
--------------------------------------------------------------------------------------------------------------------
16/08/22-FR-English-NL-footer
Western Star Introduces All-New 57X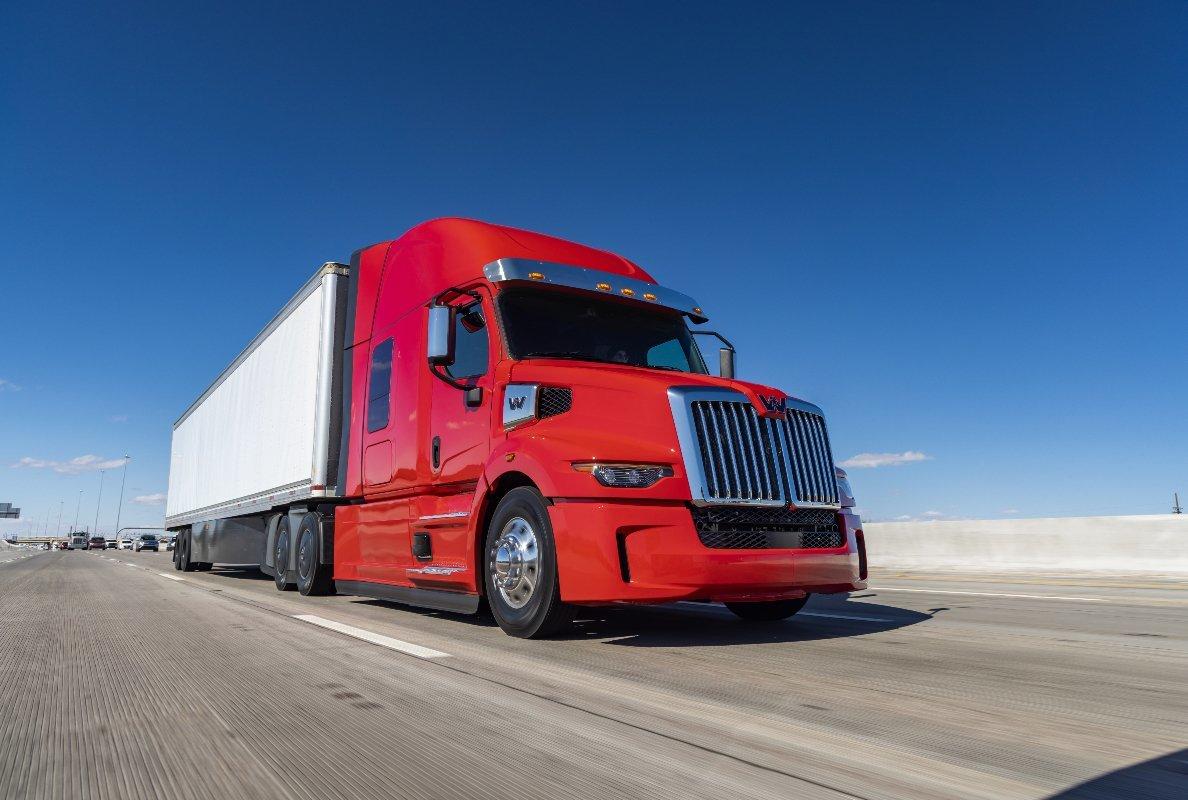 Western Star Introduces All-New 57X IMAGE SOURCE: Daimler Truck AG
New truck is Western Star's most advanced on-highway vehicle
Western Star today introduced the latest addition to its X-Series, the all-new Western Star 57X. The on-highway truck joins the new Western Star 47X and 49X to complete a lineup purpose-built for toughness, productivity and efficiency.
"With the addition of the 57X, Western Star's new X-Series now rises to the next level," said David Carson, senior vice president, sales and marketing, Daimler Truck North America (DTNA). "While the 47X and 49X serve the vocational customer, the 57X was conceived, designed and engineered specifically for owner-operators an d small fleets looking for a truck that provides the safety, efficiency, durability and prestige that only Western Star can deliver."
Reaches new heights in efficiency
The 57X is the most fuel-efficient truck Western Star has ever built. It is 5.8 percent more fuel-efficient than its predecessor, the 5700XE, while delivering legendary Western Star dependability and productivity.
The 57X gives owners a choice of Detroit engine models. The DD13 Gen 5, DD15 Gen 5 and DD16 engines all deliver proven maximum on-highway performance and fuel economy.
The 57X is available with Detroit Powertrain components including Detroit DT12 Direct or Overdrive AMT transmissions, which reduce fuel consumption and increase efficiency while improving shifting and reducing wear. Intelligent Powertrain Management anticipates terrain and adjusts to road conditions to further maximize efficiencies. Available Detroit front steer and high-speed ratio rear tandem axles also contribute to fuel efficiency and performance while reducing maintenance.
The powertrain efficiency is complemented by new aerodynamic improvements to the cab and chassis that help the 57X log mile after mile with less fuel consumption:
New aerodynamic hood and bumper with air ducts.
Roof and chassis fairings for the Day Cab, 60-inch and 72-inch Mid Roof.
Chassis side fairings with flexible skirts specifically designed to fill the gaps between cab and chassis.
Aerodynamic roof fairing or adjustable aerodynamic deflector for day cab.
24-inch sleeper side extenders (12-inch for day cabs).
Optimized drive wheel fairings smooth the air flow as it passes the trailer.
FlowBelow mold-in color drive wheel covers.
Equipped with best-in-class technology
The new 57X is equipped with industry-leading safety and connectivity features designed to protect the driver, pedestrians and other motorists, while providing the operator with crucial, real-time information about the vehicle which helps minimizing insurance costs and downtime fixing accident related repairs.
It comes standard with the best-in-class Detroit Assurance 5.0 safety system with Active Brake Assist 5, an always-on system that fuses camera and radar technology to detect moving obstacles in front of the truck and can deploy full braking. With Detroit Assurance also comes Adaptive Cruise Control (ACC to 0 mph), which keeps the truck at a safe distance and provides a more confident driving experience. Detroit Assurance 5.0 also offers optional Active Lane Assist (ALA), which includes Lane Keep Assist, Auto Stop, Lane Departure Protection and Steer Assist. Steer Assist can help reduce fatigue on the road and makes maneuvering in yards far easier. Additionally, 57X debuts Active Side Guard Assist (ASGA), an industry-first technology designed to mitigate blind side issues during right-hand turns.
Standard Detroit Connect offers a comprehensive and innovative suite of connectivity systems that provide real-time, actionable insights into vehicle performance and empowers better decision-making, resulting in less downtime and a better bottom line for owners.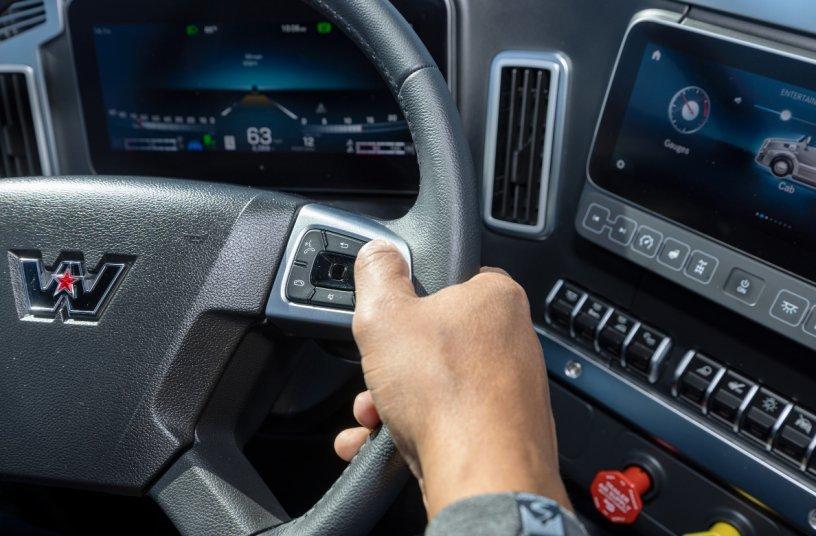 Western Star Introduces All-New 57X IMAGE SOURCE: Daimler Truck AG
All new for Western Star trucks, a digital dash display features a configurable instrument cluster to provide an experience similar to today's luxury cars. The larger screens display entertainment options such as Apple CarPlay and Android Auto (which can be accessed with a smartphone), as well as vehicle information from Detroit Assurance. Integrated steering wheel controls let drivers control most entertainment and information functions without taking their hands off the wheel.
The new 57X fully embraces the brand's distinctive styling and a heritage of rugged reliability. Drivers can relax knowing that they are riding on DTNA technology proven over millions of highway miles.
Four cab options are available to suit any application, including Day Cab, 60-inch Mid Roof, 72-inch Mid Roof or 72-inch Stratosphere. All deliver maximum comfort with leather seating and, on sleeper models, an optional enhanced driver's lounge with table and Murphy bed provide for better rest and downtime. An easy to operate, best-in-class HVAC system, improved insulation, and a larger windshield contribute to a more comfortable driver experience.
An all-LED exterior lighting package gives the 57X a distinctive look on the road while also providing greater road illumination for safer driving and Dual-Stage Intelligent LED headlights with sensors quickly melt ice or clear condensation. Interior LED lighting offers better performance and longevity.
Numerous customization and bright finish options are available to tailor the truck to the owner or driver's needs.
Production is planned to begin in early Q1 2023 at DTNA's Cleveland (N.C.) Truck Manufacturing Plant.
NJC.© Info Daimler Truck AG
-----------------------------------------------------------------------------------------------------------------------
16/08/22-NL
Western Star introduceert geheel nieuwe 57X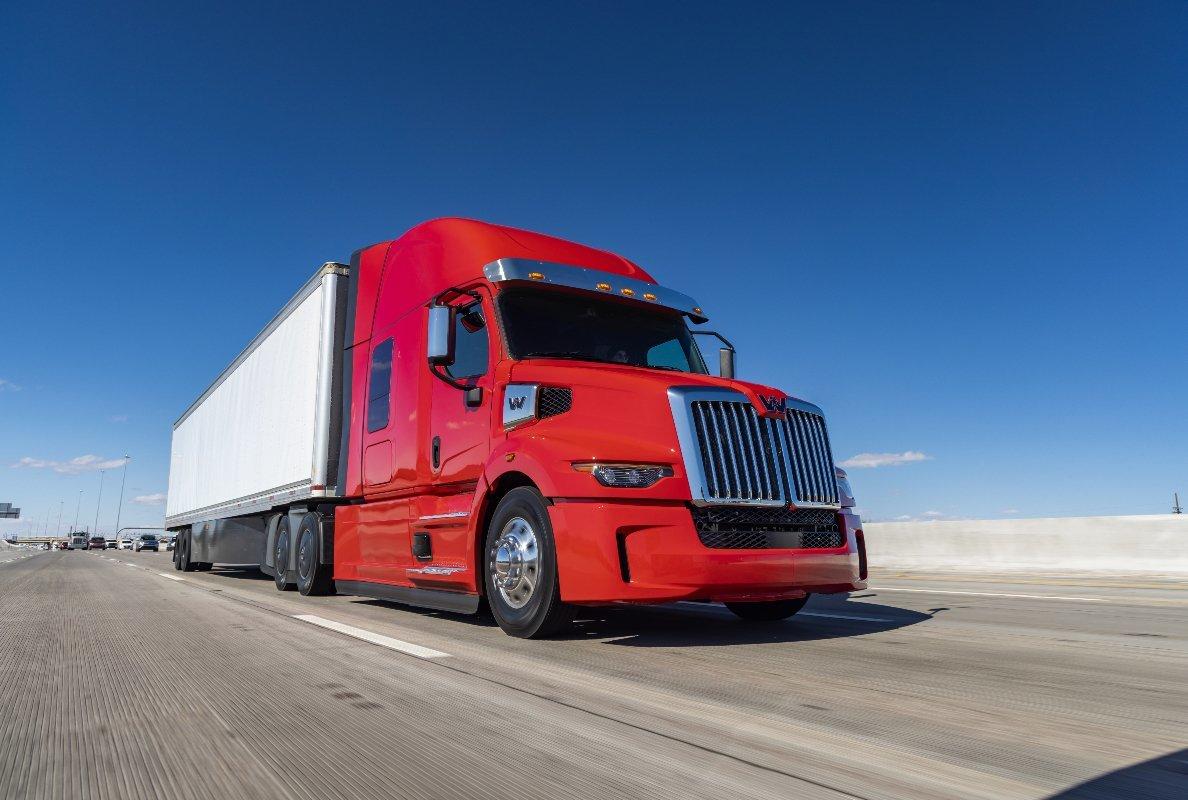 Western Star Introduces All-New 57X IMAGE SOURCE: Daimler Truck AG
Nieuwe vrachtwagen is het meest geavanceerde wegvoertuig van Western Star
Western Star heeft vandaag de nieuwste toevoeging aan zijn X-serie geïntroduceerd, de geheel nieuwe Western Star 57X. De truck voor op de snelweg voegt zich bij de nieuwe Western Star 47X en 49X om een ​​line-up te voltooien die speciaal is gebouwd voor robuustheid, productiviteit en efficiëntie.
"Met de toevoeging van de 57X ​​stijgt de nieuwe X-serie van Western Star nu naar een hoger niveau", zegt David Carson, senior vice president, sales en marketing, Daimler Truck North America (DTNA). "Terwijl de 47X en 49X de professionele klant bedienen, is de 57X ​​speciaal ontworpen, ontworpen en ontwikkeld voor eigenaar-bestuurders en kleine wagenparken die op zoek zijn naar een vrachtwagen die de veiligheid, efficiëntie, duurzaamheid en prestige biedt die alleen Western Star kan leveren."
Bereikt nieuwe hoogten in efficiëntie
De 57X ​​is de zuinigste truck die Western Star ooit heeft gebouwd. Hij is 5,8 procent zuiniger dan zijn voorganger, de 5700XE, en levert tegelijkertijd de legendarische betrouwbaarheid en productiviteit van de Western Star.
De 57X ​​biedt eigenaren een keuze uit Detroit-motormodellen. De DD13 Gen 5, DD15 Gen 5 en DD16 motoren leveren allemaal bewezen maximale prestaties op de snelweg en een laag brandstofverbruik.
De 57X ​​is verkrijgbaar met Detroit Powertrain-componenten, waaronder Detroit DT12 Direct of Overdrive AMT-transmissies, die het brandstofverbruik verminderen en de efficiëntie verhogen, terwijl het schakelen verbetert en slijtage vermindert. Intelligent Powertrain Management anticipeert op het terrein en past zich aan de wegomstandigheden aan om de efficiëntie verder te maximaliseren. Beschikbare Detroit-voorbesturing en tandemas met hoge snelheidsverhouding achter dragen ook bij aan het brandstofverbruik en de prestaties, terwijl het onderhoud wordt verminderd.
De efficiëntie van de aandrijflijn wordt aangevuld met nieuwe aerodynamische verbeteringen aan de cabine en het chassis die de 57X ​​helpen kilometer na kilometer te loggen met minder brandstofverbruik:
Nieuwe aerodynamische motorkap en bumper met luchtkanalen.
Dak- en chassisstroomlijnkappen voor de Day Cab, 60-inch en 72-inch Mid Roof.
Zijstroomlijnkappen van het chassis met flexibele rokken die speciaal zijn ontworpen om de openingen tussen cabine en chassis te vullen.
Aerodynamische dakkuip of verstelbare aerodynamische deflector voor dagcabine.
24-inch zijverlengers voor slaapcabines (12-inch voor dagcabines).
Geoptimaliseerde stroomlijnkappen van de aandrijfwielen zorgen voor een soepele luchtstroom bij het passeren van de trailer.
FlowBelow gegoten wieldoppen in kleur.
Uitgerust met de beste technologie in zijn klasse
De nieuwe 57X ​​is uitgerust met toonaangevende veiligheids- en connectiviteitsfuncties die zijn ontworpen om de bestuurder, voetgangers en andere automobilisten te beschermen, terwijl de machinist cruciale, realtime informatie over het voertuig krijgt, wat helpt bij het minimaliseren van verzekeringskosten en uitvaltijd bij het oplossen van ongevalgerelateerde reparaties.
Hij wordt standaard geleverd met het beste Detroit Assurance 5.0-veiligheidssysteem in zijn klasse met Active Brake Assist 5, een always-on-systeem dat camera- en radartechnologie combineert om bewegende obstakels voor de truck te detecteren en volledig kan remmen. Met Detroit Assurance komt ook Adaptive Cruise Control (ACC tot 0 mph), die de truck op een veilige afstand houdt en een meer zelfverzekerde rijervaring biedt. Detroit Assurance 5.0 biedt ook optionele Active Lane Assist (ALA), waaronder Lane Keep Assist, Auto Stop, Lane Departure Protection en Steer Assist. Steer Assist kan vermoeidheid op de weg helpen verminderen en maakt het manoeuvreren op het terrein veel gemakkelijker. Bovendien introduceert de 57X ​​Active Side Guard Assist (ASGA), een primeur in de sector die is ontworpen om problemen met blinde zijwanden tijdens bochten naar rechts te verminderen.
Standard Detroit Connect biedt een uitgebreide en innovatieve reeks connectiviteitssystemen die realtime, bruikbare inzichten in voertuigprestaties bieden en betere besluitvorming mogelijk maken, wat resulteert in minder uitvaltijd en een beter resultaat voor eigenaren.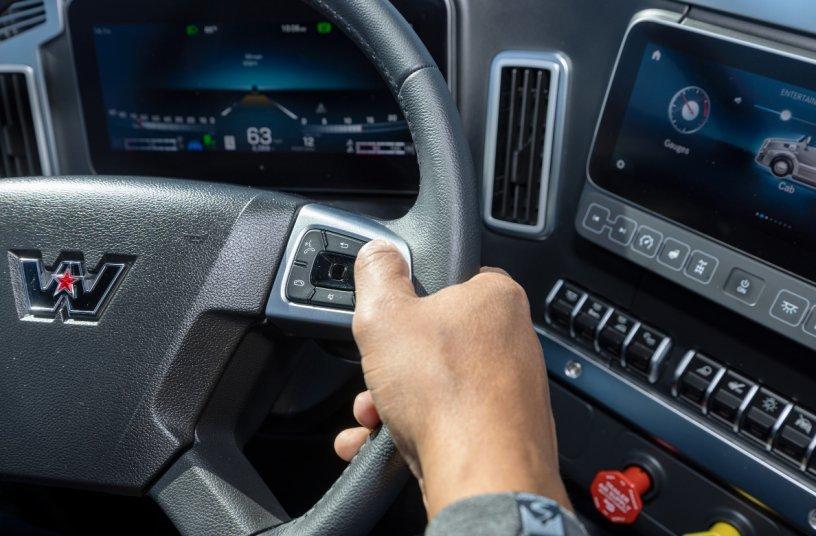 Western Star Introduces All-New 57X IMAGE SOURCE: Daimler Truck AG
Geheel nieuw voor Western Star-trucks, een digitaal dashboard met een configureerbaar instrumentenpaneel om een ​​ervaring te bieden die vergelijkbaar is met die van moderne luxe auto's. De grotere schermen tonen entertainmentopties zoals Apple CarPlay en Android Auto (die toegankelijk zijn met een smartphone), evenals voertuiginformatie van Detroit Assurance. Dankzij de geïntegreerde stuurbediening kunnen bestuurders de meeste entertainment- en informatiefuncties bedienen zonder hun handen van het stuur te halen.
De nieuwe 57X ​​omarmt volledig de kenmerkende styling van het merk en een erfgoed van robuuste betrouwbaarheid. Bestuurders kunnen ontspannen in de wetenschap dat ze rijden op DTNA-technologie die zich heeft bewezen over miljoenen snelwegkilometers.
Er zijn vier cabineopties beschikbaar voor elke toepassing, waaronder Day Cab, 60-inch Mid Roof, 72-inch Mid Roof of 72-inch Stratosphere. Alle bieden maximaal comfort met lederen stoelen en, op slaapmodellen, een optionele verbeterde bestuurderslounge met tafel en opklapbed zorgen voor betere rust en downtime. Een eenvoudig te bedienen, eersteklas HVAC-systeem, verbeterde isolatie en een grotere voorruit dragen bij aan een comfortabelere bestuurderservaring.
Een volledig LED-buitenverlichtingspakket geeft de 57X ​​een onderscheidend uiterlijk op de weg en biedt tegelijkertijd meer wegverlichting voor veiliger rijden en Dual-Stage Intelligent LED-koplampen met sensoren die snel ijs smelten of condens verwijderen. LED-binnenverlichting biedt betere prestaties en een lange levensduur.
Er zijn tal van maatwerk en heldere afwerkingsopties beschikbaar om de truck af te stemmen op de behoeften van de eigenaar of chauffeur.
De productie zal naar verwachting begin Q1 2023 beginnen in DTNA's Cleveland (N.C.) Truck Manufacturing Plant.
NJC.© Info Daimler Truck AG
--------------------------------------------------------------------------------------------------------------
Date de dernière mise à jour : 16/08/2022