XCMG Machinery Continuously Promotes the Development of Alternative Energy Products to Serve Global Construction and Mining Projects

17/07/23-FR-English-NL-footer
XCMG Machinery promeut en permanence le développement de produits énergétiques alternatifs pour servir les projets mondiaux de construction et d'exploitation minière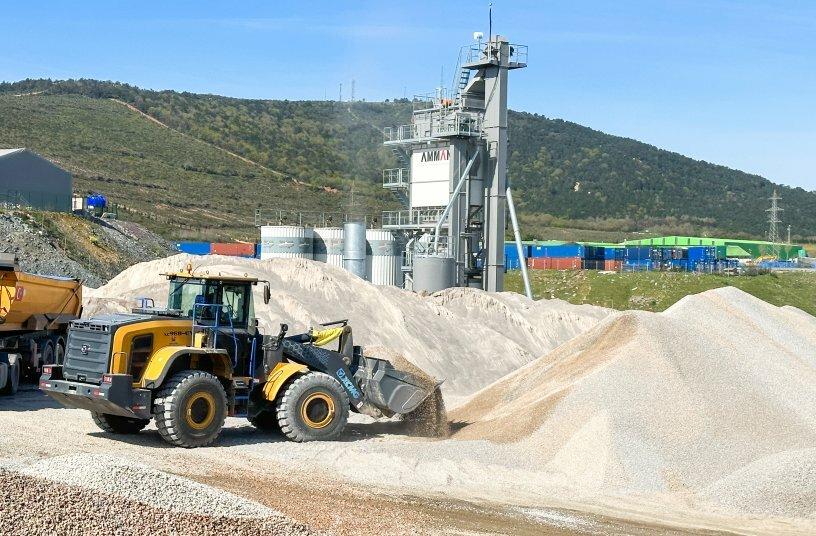 XC968-EV, the Pure Electric Loaders, from XCMG in the Factory
IMAGE SOURCE: XCMG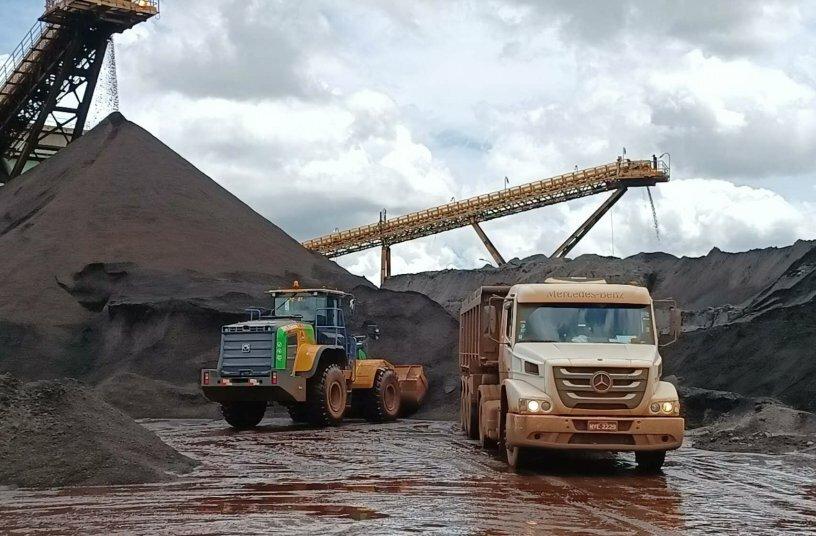 Pure Electric Loader from XCMG Works in Brazil
IMAGE SOURCE: XCMG
Dernièrement, XCMG Machinery, le trois premier fabricant mondial d'équipements de construction, a livré un grand nombre de produits dans le monde entier, avec le développement des énergies alternatives et la valeur croissante des marques. La société continue de propulser et d'utiliser l'énergie passant des combustibles fossiles aux énergies renouvelables, telles que l'électricité, l'hydrogène et l'énergie solaire, dans sa gamme diversifiée de produits d'équipement de construction.
Les chargeurs électriques purs, XC968-EV, livrés en lots en Turquie ont montré leur capacité de service local et leur force de protection de l'environnement. Ce lot de produits a été personnalisé avec 3,5 mètres cubes de seau agrandi et une batterie de super capacité de 350 kW·h selon les besoins des utilisateurs, avec une puissance plus forte, une efficacité plus élevée, zéro émission et aucune pollution. Les heures de travail et l'efficacité ont été grandement améliorées pour maximiser la valeur client. À l'avenir, XCMG contribuera certainement à la construction d'infrastructures et au développement vert de la Turquie.
Avec le soutien de la technologie unique à trois moteurs de XCMG, le système de marche et le système hydraulique ont adopté le contrôle du moteur, non seulement pour obtenir de l'électricité pure et zéro émission, mais également pour réduire les coûts de maintenance du filtre à air, de la boîte de vitesses et du filtre diesel. De plus, sa réponse rapide et son accélération ont apporté une grande efficacité. Grâce à des percées technologiques continues, le principal modèle de commercialisation a été mis à niveau vers le XC968-EV à partir du XC958-EV, qui est également le premier chargeur électrique pur sans boîte de vitesses au monde qui a été exporté au Brésil, remplaçant le "carburant diesel" par "l'électricité". ".
XCMG a déployé un lot de machines de construction à hydrogène comme autre cas d'adoption et de pratique d'énergie alternative. Le premier chargeur électrique à hydrogène de 6 tonnes au monde (XC968-FCEV), développé par XCMG sur la base du chargeur électrique pur de troisième génération, a été mis en service dans les mines de charbon du Shanxi, en Chine, pour améliorer le pratique respectueuse de l'environnement de l'exploitation minière verte.
Le XC968-FCEV a été développé sur la base de la technologie de chargeur électrique pur de troisième génération de XCMG et a adopté la pile de carburant à hydrogène et la batterie à haut débit les plus avancées de l'industrie, qui convenaient au chargement, au déchargement et au transbordement de matériaux en vrac tels que les mines. , les mines de charbon et l'acier, avec une émission et une pollution vraiment nulles. L'ensemble de la machine utilise des piles de carburant à hydrogène haute puissance et des batteries à haut débit pour répondre aux exigences de performance à charge élevée. Un système de stockage d'hydrogène d'une capacité supérieure à 1000 litres peut atteindre une autonomie de fonctionnement allant jusqu'à 10 heures dans des conditions normales.
XCMG a également développé des modèles à combustion efficace alimentés au gaz naturel. En novembre 2010, le premier chargeur de gaz naturel GNL de 5 tonnes au monde a été livré et mis en service en Mongolie intérieure. Le chargeur GNL de XCMG est équipé d'un moteur GNL dédié, qui a une efficacité de combustion élevée sans polluer. Le stockage de GNL utilise des bouteilles de gaz spécialisées de fabricants bien connus dans l'industrie pour prévenir efficacement les risques de sécurité liés au remplissage excessif. Avec la technologie de turbocompression COOL, il a une réponse rapide, une turbocompression plus rapide et une alimentation en gaz stable afin d'assurer une puissance de sortie durable et forte, de réduire considérablement les émissions de dioxyde de carbone et de réduire les coûts de carburant. Les principaux modèles en vente sont les LW500KV-LNG et LW600KV-LNG.
NJC.© Info XCMG
---------------------------------------------------------------------------------------------------------------

17/07/23-English
XCMG Machinery Continuously Promotes the Development of Alternative Energy Products to Serve Global Construction and Mining Projects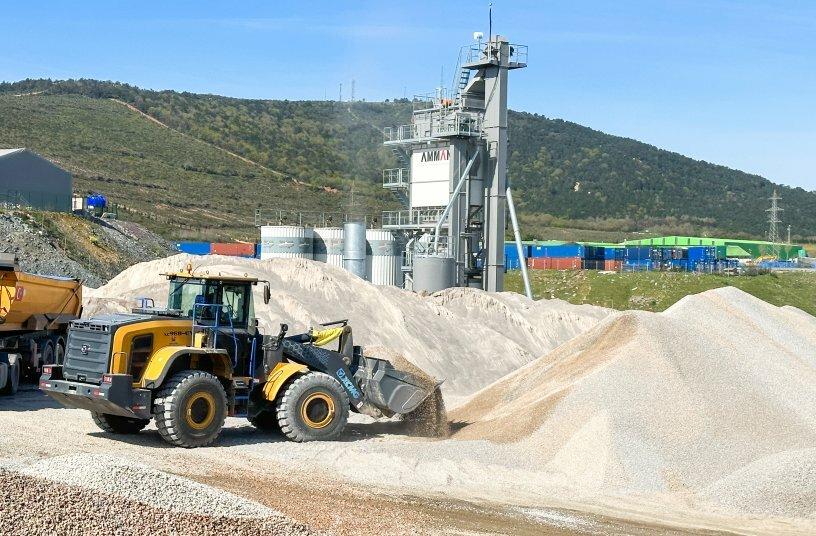 XC968-EV, the Pure Electric Loaders, from XCMG in the Factory
IMAGE SOURCE: XCMG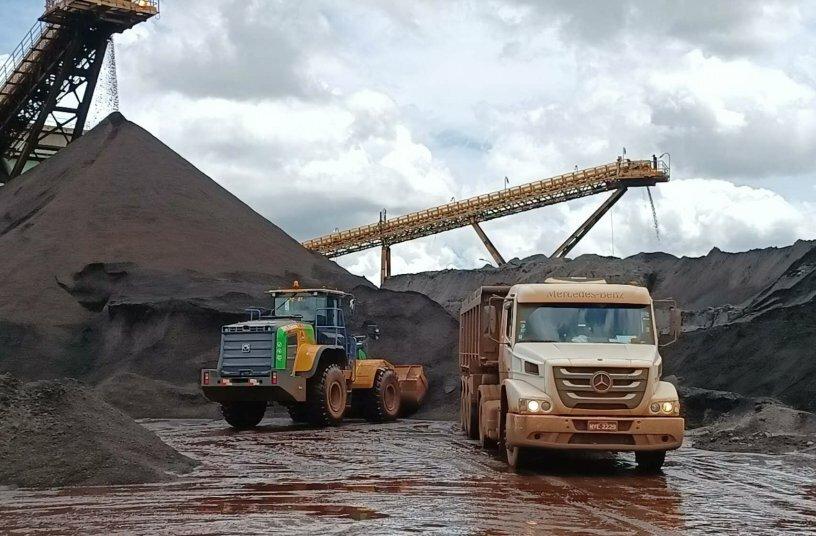 Pure Electric Loader from XCMG Works in Brazil
IMAGE SOURCE: XCMG
Lately, XCMG Machinery, the world's top three construction equipment manufacturer, has delivered an extensive number of products worldwide, with the development of alternative energy and the increasing value of brands. The company continues to propel and utilize the power transitioning from fossil fuels to renewable energies, such as electric, hydrogen, and solar, in its diverse range of construction equipment products.
The pure electric loaders, XC968-EV, delivered to Turkey in batches showed their local service capability and environmental protection strength. This batch of products was customized with 3.5 cubic meters of enlarged bucket and a 350kW·h super-capacity battery according to the users' needs, with stronger power, higher efficiency, zero emission, and no pollution. The working hours and efficiency have been greatly improved to maximize customer value. In the future, XCMG will definitely contribute to Turkey's infrastructure construction and green development.
With the support of XCMG's unique three-motor technology, the walking system and hydraulic system adopted motor control, not only achieving pure electricity and zero emissions, but also saving maintenance costs on the air filter, gearbox, and diesel filter. Also, its quick response and acceleration brought high efficiency. Thanks to continuous technological breakthroughs, the main marketing model has been upgraded to the XC968-EV from XC958-EV, which is also the world's first gearbox-less pure electric loader that has been exported to Brazil, replacing "diesel fuel" with "electricity".
XCMG deployed a batch of hydrogen-powered construction machines as another alternative energy adoption and practice case. The world's first and 6-tonnage hydrogen-powered electric loader (XC968-FCEV), was developed by XCMG on the basis of the third generation pure electric loader, has been put into use in the coal mines in Shanxi, China, to improve the environmentally friendly practice of green mining.
XC968-FCEV was developed on the basis of XCMG's third-generation pure electric loader technology and adopted the most advanced hydrogen fuel stack and high-rate battery in the industry, which were suitable for loading, unloading, and transshipment of bulk materials such as mines, coal mines, and steel, with real zero emission and pollution. The whole machine uses high-power hydrogen fuel stacks and high-rate batteries to meet the high load performance requirements. A hydrogen storage system with a capacity of over 1000 liters can achieve an operating range of up to 10 hours under normal conditions.
XCMG also developed combustion-efficient models powered by natural gas. In November 2010, the world's first 5-ton LNG natural gas loader was delivered and put into service in Inner Mongolia. XCMG's LNG loader is equipped with a dedicated LNG engine, which has high combustion efficiency without polluting. LNG storage uses specialized gas cylinders from well-known manufacturers in the industry to effectively prevent the safety hazards of overfilling. With COOL turbocharging technology, it has fast response, faster turbocharging, and a stable gas supply so as to ensure long-lasting and strong power output, significantly reduce carbon dioxide emissions, and save fuel costs. The main models on sale are the LW500KV-LNG and LW600KV-LNG.
NJC.© Info XCMG
-----------------------------------------------------------------------------------------------------------------

17/07/23-NL
XCMG Machinery promoot voortdurend de ontwikkeling van alternatieve energieproducten voor wereldwijde bouw- en mijnbouwprojecten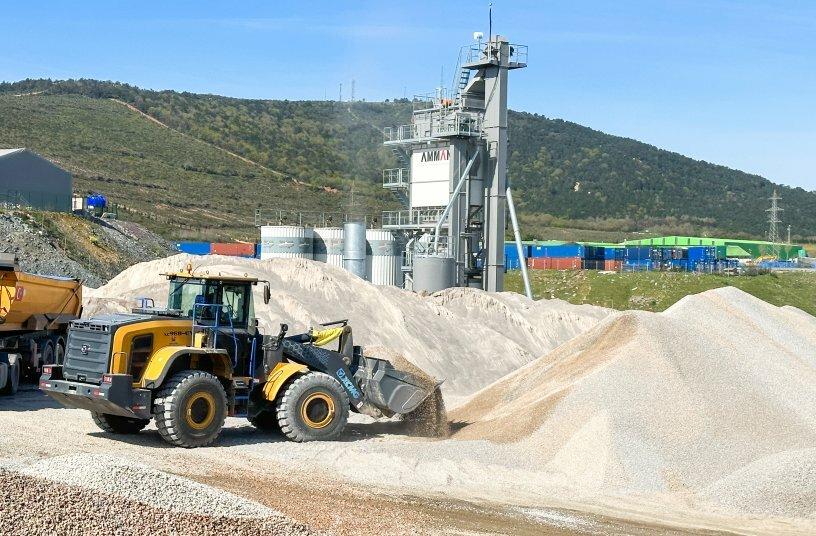 XC968-EV, the Pure Electric Loaders, from XCMG in the Factory
IMAGE SOURCE: XCMG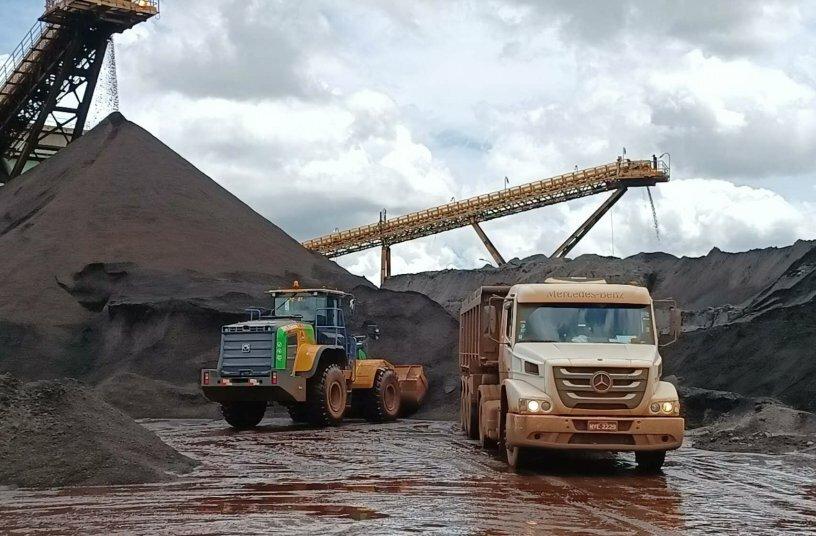 Pure Electric Loader from XCMG Works in Brazil
IMAGE SOURCE: XCMG
De laatste tijd heeft XCMG Machinery, 's werelds top drie fabrikant van bouwmachines, wereldwijd een uitgebreid aantal producten geleverd, met de ontwikkeling van alternatieve energie en de toenemende waarde van merken. Het bedrijf blijft de energietransitie van fossiele brandstoffen naar hernieuwbare energiebronnen, zoals elektriciteit, waterstof en zonne-energie, voortstuwen en gebruiken in zijn gevarieerde assortiment producten voor bouwmachines.
De puur elektrische laders, XC968-EV, die in batches aan Turkije werden geleverd, toonden hun lokale servicecapaciteit en milieubescherming. Deze partij producten werd aangepast met een vergrote bak van 3,5 kubieke meter en een batterij met supercapaciteit van 350 kWh volgens de behoeften van de gebruikers, met een sterker vermogen, hogere efficiëntie, geen uitstoot en geen vervuiling. De werktijden en efficiëntie zijn sterk verbeterd om de klantwaarde te maximaliseren. In de toekomst zal XCMG zeker bijdragen aan de aanleg van infrastructuur en groene ontwikkeling in Turkije.
Met de ondersteuning van XCMG's unieke technologie met drie motoren, hebben het loopsysteem en het hydraulische systeem motorbesturing overgenomen, niet alleen pure elektriciteit en geen uitstoot, maar ook onderhoudskosten bespaard op het luchtfilter, de versnellingsbak en het dieselfilter. Ook zorgden de snelle reactie en acceleratie voor een hoge efficiëntie. Dankzij voortdurende technologische doorbraken is het belangrijkste marketingmodel geüpgraded naar de XC968-EV van de XC958-EV, die ook 's werelds eerste puur elektrische lader zonder versnellingsbak is die naar Brazilië is geëxporteerd, waarbij "dieselbrandstof" is vervangen door "elektriciteit". ".
XCMG heeft een reeks door waterstof aangedreven bouwmachines ingezet als een andere alternatieve toepassing van energie en praktijkvoorbeelden. 'S Werelds eerste en 6-tons waterstofaangedreven elektrische lader (XC968-FCEV), ontwikkeld door XCMG op basis van de derde generatie puur elektrische lader, is in gebruik genomen in de kolenmijnen in Shanxi, China, om de milieuvriendelijke praktijk van groene mijnbouw.
XC968-FCEV is ontwikkeld op basis van XCMG's derde generatie pure elektrische ladertechnologie en heeft de meest geavanceerde waterstofbrandstofstack en hoogwaardige batterij in de industrie gebruikt, die geschikt waren voor het laden, lossen en overslaan van bulkmaterialen zoals mijnen , kolenmijnen en staal, met echte nulemissie en vervuiling. De hele machine maakt gebruik van krachtige waterstofbrandstofstapels en hoogwaardige batterijen om te voldoen aan de prestatie-eisen voor hoge belasting. Een waterstofopslagsysteem met een capaciteit van meer dan 1000 liter kan onder normale omstandigheden een actieradius van maximaal 10 uur halen.
XCMG ontwikkelde ook verbrandingsefficiënte modellen aangedreven door aardgas. In november 2010 werd 's werelds eerste 5-tons LNG-aardgaslader geleverd en in gebruik genomen in Binnen-Mongolië. De LNG-lader van XCMG is uitgerust met een speciale LNG-motor, die een hoog verbrandingsrendement heeft zonder te vervuilen. LNG-opslag maakt gebruik van gespecialiseerde gasflessen van bekende fabrikanten in de industrie om de veiligheidsrisico's van overvulling effectief te voorkomen. Met COOL-turbotechnologie heeft hij een snelle respons, snellere turbolading en een stabiele gastoevoer om een langdurig en krachtig vermogen te garanderen, de uitstoot van kooldioxide aanzienlijk te verminderen en brandstofkosten te besparen. De belangrijkste modellen die te koop zijn, zijn de LW500KV-LNG en LW600KV-LNG.
NJC.© Info XCMG
------------------------------------------------------------------------------------------------------------------