XCMG super-tonnage LW1200KN and LW900KN Loaders delivered to Central Asia
05/09/22-FR-English-NL-footer
Les chargeuses XCMG super tonnage LW1200KN et LW900KN livrées en Asie centrale
Image- Xuzhou Construction Machinery Group Co., Ltd. (XCMG)
XCMG a livré ce mois-ci deux unités de LW1200KN et six unités de chargeurs de super tonnage LW900KN aux pays de l'initiative "la Ceinture et la Route".
Sur la base des données de masse des opérations sur site, XCMG a personnalisé et mis à niveau l'équipement pour s'adapter aux conditions difficiles des mines à ciel ouvert et répondre aux exigences des clients. Comme les chargeuses seront exposées à un fort ensoleillement avec une grande différence de température entre le jour et la nuit, elles sont peintes avec un traitement anticorrosion et comprennent une protection des canalisations.
Les modèles comportent également :
Système de refroidissement indépendant : utilise un radiateur à une rangée et à grand espacement avec une forte puissance qui refroidit instantanément pour résoudre complètement les problèmes de refroidissement rencontrés dans divers environnements difficiles.
Dispositifs de travail puissants : optimise la conception à l'aide de plaques à haute résistance tout en tenant compte des habitudes des utilisateurs, améliore la résistance à l'usure et aux chocs de 30 %, tout en ayant également un coefficient de godet plein plus élevé pour réduire les coûts de maintenance et améliorer l'efficacité du travail.
Efficacité opérationnelle ultra élevée : équipé de la technologie unique de contrôle hydraulique entièrement variable de XCMG avec une énergie cinétique raisonnablement répartie, offre une excavation puissante et une action rapide pour garantir les meilleures performances dynamiques qui permettent d'effectuer un maximum de travail en un minimum de temps.
"Les produits sont au cœur de la concurrence sur le marché et créent des valeurs pour les clients, à partir de 8 tonnes, 12 tonnes à 35 tonnes, XCMG a continuellement battu le record de création des plus gros chargeurs de tonnage en Chine. XCMG est désormais le troisième fabricant au monde doté de la technologie et de la capacité de fabriquer des chargeuses de super tonnage de plus de 35 tonnes et occupe une position de leader sur le marché chinois », a déclaré Qingzhu Wang, directeur général de XCMG Earth Moving Machinery et vice-président de XCMG. .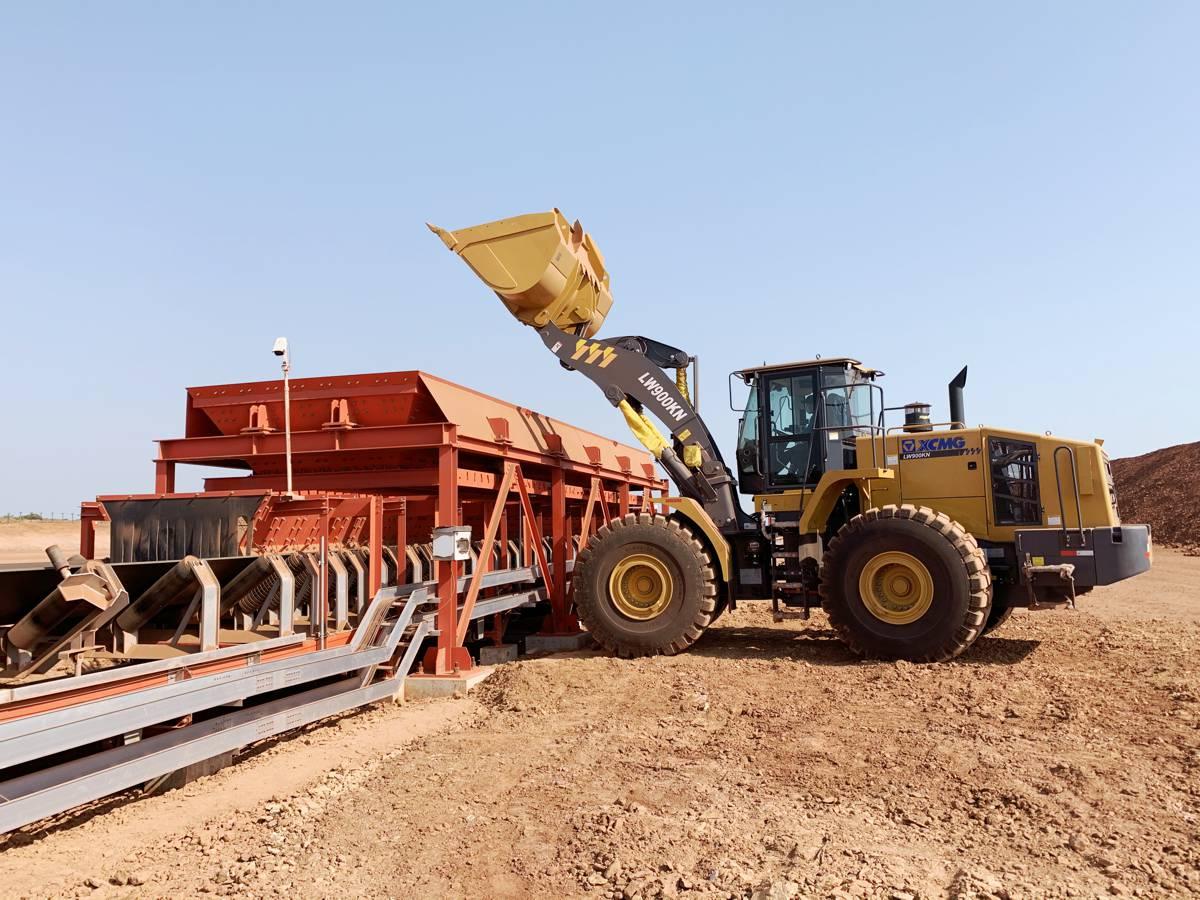 Image- Xuzhou Construction Machinery Group Co., Ltd. (XCMG)
En outre, XCMG a lancé ces dernières années des produits pionniers tels que des chargeurs électriques purs, des chargeurs télécommandés et des chargeurs sans pilote, atteignant un taux de croissance de plus de 70 % sur les marchés mondiaux haut de gamme.
Les solides capacités de service de XCMG ont également été reconnues sur les marchés potentiels. Il a promu et mis en œuvre la mise à niveau électrique de l'industrie en coopération avec des chaînes et des organisations industrielles étrangères.
Suite à la stratégie « numérique, verte et globale », le chiffre d'affaires international de l'activité chargeurs représente désormais plus de 48 % du total. XCMG a été le premier exportateur chinois de produits de chargeuse pendant 33 années consécutives et a dépassé 100 000 unités de livraisons cumulées à l'étranger plus tôt cette année. Au premier semestre 2022, les revenus internationaux des chargeurs XCMG ont atteint 48 % et représentaient 36 % des exportations totales de l'industrie.
En Amérique du Sud, XCMG a exporté plus de 3 600 unités de chargeurs au premier semestre 2022, prenant 40 % du nombre de chargeurs exportés, qui représentaient plus de 40 % du volume total d'exportation de chargeurs de l'entreprise et ont atteint 137,4 % par an. augmentation sur un an. Les exportations de chargeuses de gros tonnage ont augmenté de 300 % d'une année sur l'autre, et les chargeuses électriques de la série XC9 sont désormais livrées par lots aux clients locaux.
Alors que le Brésil s'engage à atteindre une réduction de carbone de 50 % d'ici 2030 et la neutralité carbone d'ici 2050, XCMG explore également activement les opportunités sur le marché des nouvelles énergies.
En intégrant les systèmes X-GSS, CRM et IoT de XCMG, les clients internationaux peuvent vérifier l'inventaire des pièces de rechange et commander la livraison en un seul clic. En 2021, XCMG a livré des centaines de millions de yuans de pièces détachées à l'étranger.
XCMG a toujours eu pour objectif de fournir non seulement des produits de qualité supérieure, mais également de fournir les meilleurs services de sa catégorie. Ses 126 concessionnaires à l'étranger se sont coordonnés pour assurer un service rapide aux clients ; plus de 500 ingénieurs de service sont disponibles 24 heures sur 24 ; et XCMG a organisé le "Million Miles Service Tour" pendant quatre ans sans escale pour atteindre une moyenne de 1 000 clients dans 38 pays et régions chaque année.
Hier, XCMG a lancé son événement de service mondial 2022 à son siège social - Xuzhou, Chine, prévoyant de visiter plus de 3 000 clients situés dans plus de 50 pays et régions. Veuillez rester à l'écoute du flux à venir de sa tournée mondiale de services.
NJC.© Info Xuzhou Construction Machinery Group Co., Ltd. (XCMG)
--------------------------------------------------------------------------------------------------------------------
05/09/22-English
XCMG super-tonnage LW1200KN and LW900KN Loaders delivered to Central Asia
Image- Xuzhou Construction Machinery Group Co., Ltd. (XCMG)
XCMG has delivered two units of LW1200KN and six units of LW900KN super tonnage loaders to Belt and Road Initiative countries this month.
Based on mass data from on-site operations, XCMG has customized and upgraded the equipment to adapt to the challenging conditions of open pit mines and meet customers' requirements. As the loaders will be exposed to strong sunlight with vast temperature difference between day and night, they're painted with corrosion resistance treatment and includes pipeline protection.
The models also feature:
Independent cooling system: uses single-row, large-spacing radiator with strong power that cools instantly to completely solve the cooling problems encountered in various harsh environments.
Powerful working devices: optimizes design using high-strength plates while taking user habits into consideration, improves wear and impact resistance by 30 percent, while also having higher full bucket coefficient to reduce maintenance costs and improve working efficiency.
Ultra high operational efficiency: equipped with XCMG's unique full-variable hydraulic control technology with reasonably distributed kinetic energy, offers powerful digging and quick action to ensure best dynamic performance that completes maximum amount of work in shortest time.
"Products are the core to win market competition and create values for the customers, starting from 8 tons, 12 tons to 35 tons, XCMG has continuously broken the record of creating the largest tonnage loaders in China. XCMG is now the third manufacturer in the world with the technology and capability to manufacture super-tonnage loaders that are above 35 tons and is of leading position in the Chinese market," said Qingzhu Wang, GM of XCMG Earth Moving Machinery and VP of XCMG.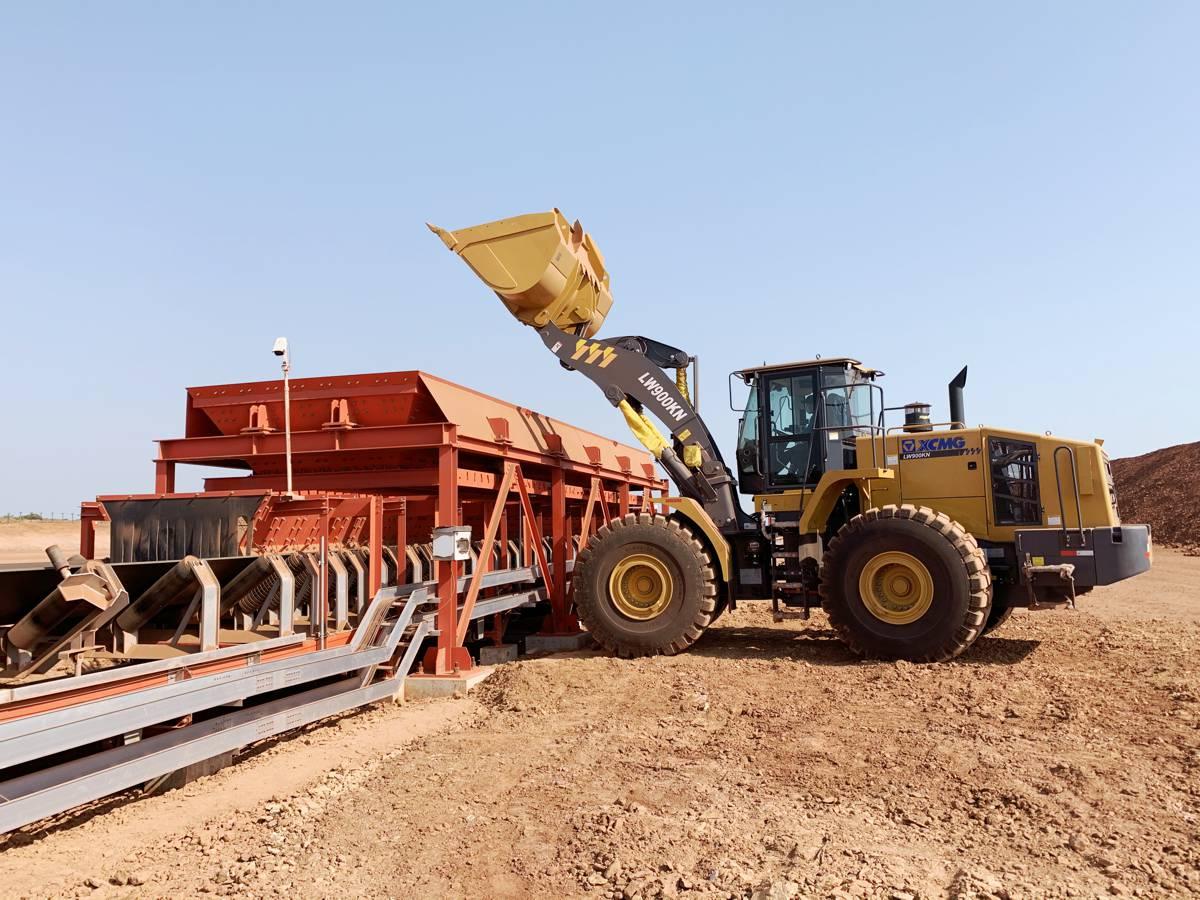 Image- Xuzhou Construction Machinery Group Co., Ltd. (XCMG)
Furthermore, XCMG has released pioneering products such as pure electric loaders, remote control loaders and unmanned loaders in recent years, achieving a growth rate of more than 70 percent in the global high-end markets.
The strong service capabilities of XCMG have also won recognition in potential markets. It has promoted and implemented the electric upgrading of the industry in cooperation with overseas industry chain and organizations.
Following the "digital, green, and global" strategy, the international revenue of the loader business now accounts for more than 48 percent of the total. XCMG has been China's top exporter of loader products for 33 years consecutively and surpassed 100,000 units of cumulative overseas deliveries earlier this year. In the first half of 2022, the international revenue of XCMG loaders reached 48 percent and accounted for 36 percent of the industry's total exports.
In South America, XCMG has exported over 3,600 units of loaders in the first half of 2022, taking 40% of the number of exported loaders, which accounted for more than 40 percent of the company's total loader export volume and achieved a 137.4 percent year-on-year increase. Exports of large tonnage loaders have increased by 300 percent year on year, and the XC9 series electric loaders are now delivered to local customers in batches.
As Brazil commits to achieve 50 percent carbon reduction by 2030 and carbon neutrality by 2050, XCMG is also actively exploring opportunities in the new energy market.
Integrating XCMG's X-GSS, CRM and IoT systems, international customers can check spare parts inventory and order delivery with one click of a button. In 2021, XCMG delivered hundreds of millions of yuan worth of spare parts overseas.
XCMG has always aimed to deliver not only the top-quality products, but also provide the best-in-class services. Its 126 overseas dealers have coordinated to ensure prompt service for the customers; more than 500 service engineers are on call 24 hours; and XCMG has hosted the "Million Miles Service Tour" for four years nonstop to reach an average of 1,000 customers in 38 countries and regions annually.
Yesterday, XCMG launched its 2022 Global Service Event in its headquarters – Xuzhou, China, planning to visit over 3,000 clients located in over 50 countries and regions. Please stay tune in with upcoming feed of its global service tour.
NJC.© Info Xuzhou Construction Machinery Group Co., Ltd. (XCMG)
----------------------------------------------------------------------------------------------------------------
05/09/22-NL
XCMG supertonnage LW1200KN en LW900KN laders geleverd aan Centraal-Azië
Image- Xuzhou Construction Machinery Group Co., Ltd. (XCMG)
XCMG heeft deze maand twee eenheden LW1200KN en zes eenheden LW900KN supertonnageladers geleverd aan Belt and Road Initiative-landen.
Op basis van massagegevens van operaties ter plaatse heeft XCMG de apparatuur aangepast en geüpgraded om zich aan te passen aan de uitdagende omstandigheden van open mijnen en om te voldoen aan de eisen van de klant. Omdat de laders worden blootgesteld aan sterk zonlicht met een groot temperatuurverschil tussen dag en nacht, zijn ze geverfd met een corrosiebestendige behandeling en zijn ze voorzien van pijpleidingbescherming.
De modellen beschikken ook over:
Onafhankelijk koelsysteem: maakt gebruik van een rij radiatoren met grote afstanden en een sterk vermogen dat onmiddellijk afkoelt om de koelproblemen in verschillende ruwe omgevingen volledig op te lossen.
Krachtige werkapparaten: optimaliseert het ontwerp met behulp van zeer sterke platen, rekening houdend met gebruikersgewoonten, verbetert de slijtvastheid en slagvastheid met 30 procent, terwijl ze ook een hogere volle bakcoëfficiënt hebben om de onderhoudskosten te verlagen en de werkefficiëntie te verbeteren.
Ultrahoge operationele efficiëntie: uitgerust met XCMG's unieke volledig variabele hydraulische regeltechnologie met redelijk verdeelde kinetische energie, biedt krachtig graafwerk en snelle actie om de beste dynamische prestaties te garanderen die maximale hoeveelheid werk in de kortste tijd voltooien.
"Producten zijn de kern om marktconcurrentie te winnen en waarde te creëren voor de klanten, van 8 ton, 12 ton tot 35 ton. XCMG heeft voortdurend het record gebroken van het creëren van de grootste tonnageladers in China. XCMG is nu de derde fabrikant ter wereld met de technologie en het vermogen om laders met een supertonnage van meer dan 35 ton te produceren en heeft een leidende positie op de Chinese markt", zegt Qingzhu Wang, GM van XCMG Earth Moving Machinery en VP van XCMG. .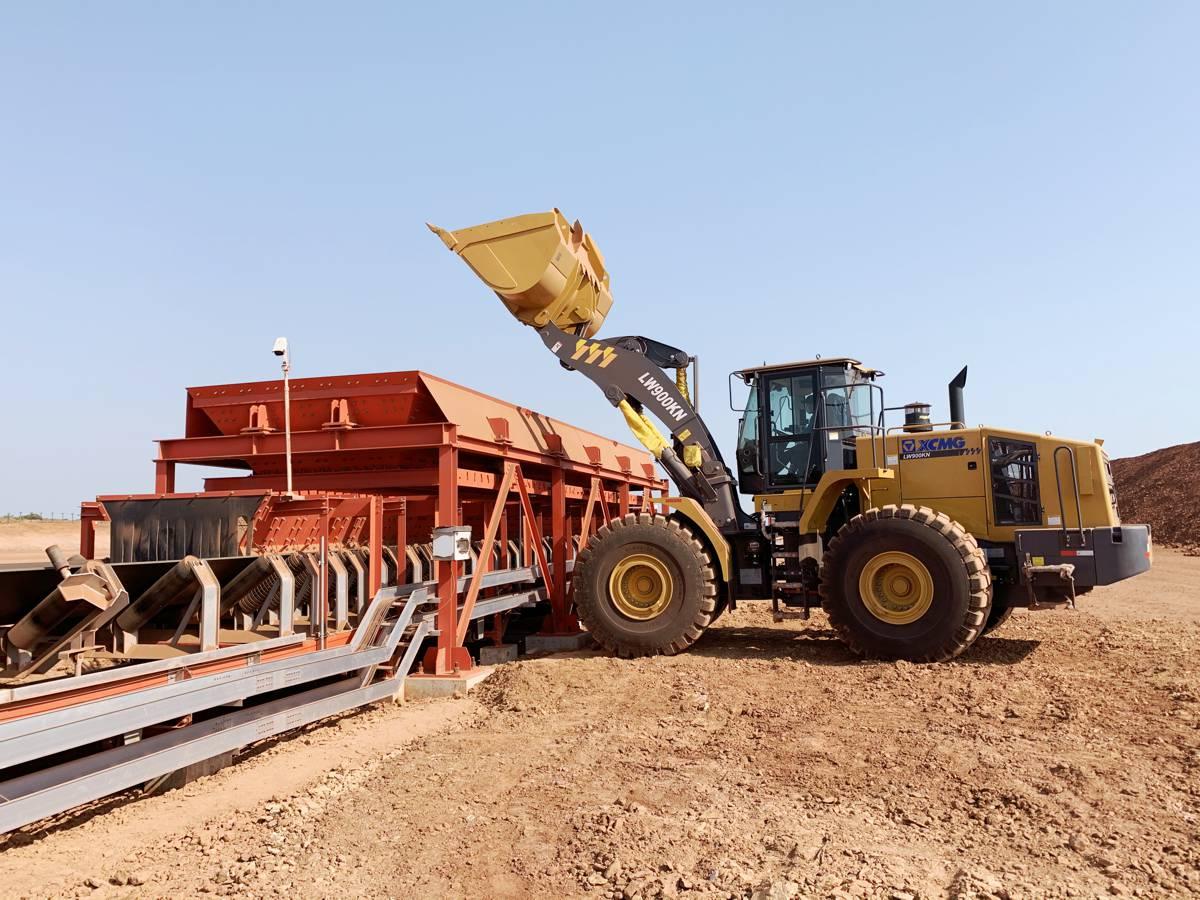 Image- Xuzhou Construction Machinery Group Co., Ltd. (XCMG)
Bovendien heeft XCMG de afgelopen jaren baanbrekende producten op de markt gebracht, zoals puur elektrische laders, laders met afstandsbediening en onbemande laders, met een groeipercentage van meer dan 70 procent in de wereldwijde high-end markten.
De sterke servicemogelijkheden van XCMG hebben ook erkenning gekregen in potentiële markten. Het heeft de elektrische opwaardering van de industrie gepromoot en geïmplementeerd in samenwerking met overzeese industrieketens en organisaties.
In navolging van de "digitale, groene en globale" strategie is de internationale omzet van de laderactiviteiten nu goed voor meer dan 48 procent van het totaal. XCMG is al 33 jaar achtereen de grootste exporteur van laderproducten in China en overtrof eerder dit jaar 100.000 eenheden cumulatieve overzeese leveringen. In de eerste helft van 2022 bereikte de internationale omzet van XCMG-laders 48 procent en was goed voor 36 procent van de totale export van de sector.
In Zuid-Amerika heeft XCMG in de eerste helft van 2022 meer dan 3.600 laders geëxporteerd, goed voor 40% van het aantal geëxporteerde laders, wat goed was voor meer dan 40% van het totale exportvolume van laders en een jaargemiddelde van 137,4% behaalde. stijging op jaarbasis. De export van laders voor grote tonnages is jaar op jaar met 300 procent gestegen en de elektrische laders van de XC9-serie worden nu in batches aan lokale klanten geleverd.
Aangezien Brazilië zich ertoe verbindt om tegen 2030 50 procent CO2-reductie te bereiken en tegen 2050 koolstofneutraliteit, onderzoekt XCMG ook actief de mogelijkheden in de nieuwe energiemarkt.
Door de X-GSS-, CRM- en IoT-systemen van XCMG te integreren, kunnen internationale klanten met één klik op een knop de voorraad reserveonderdelen en de levering van bestellingen controleren. In 2021 leverde XCMG honderden miljoenen yuan aan reserveonderdelen in het buitenland.
XCMG heeft er altijd naar gestreefd om niet alleen producten van topkwaliteit te leveren, maar ook om de beste service te bieden. De 126 buitenlandse dealers hebben gecoördineerd om een ​​snelle service voor de klanten te garanderen; meer dan 500 servicemonteurs staan ​​24 uur per dag voor u klaar; en XCMG heeft vier jaar non-stop de "Million Miles Service Tour" georganiseerd om jaarlijks gemiddeld 1.000 klanten in 38 landen en regio's te bereiken.
Gisteren lanceerde XCMG zijn 2022 Global Service Event in zijn hoofdkantoor - Xuzhou, China, met plannen om meer dan 3.000 klanten in meer dan 50 landen en regio's te bezoeken. Blijf op de hoogte van de aankomende feed van de wereldwijde servicetour.
NJC.© Info Xuzhou Construction Machinery Group Co., Ltd. (XCMG)
-----------------------------------------------------------------------------------------------------------------------
Date de dernière mise à jour : 02/09/2022