XL Specialized Trailers Launches Guardian HDG Trailer

07/02/23-FR-English-NL-footer
XL Specialized Trailers lance la remorque Guardian HDG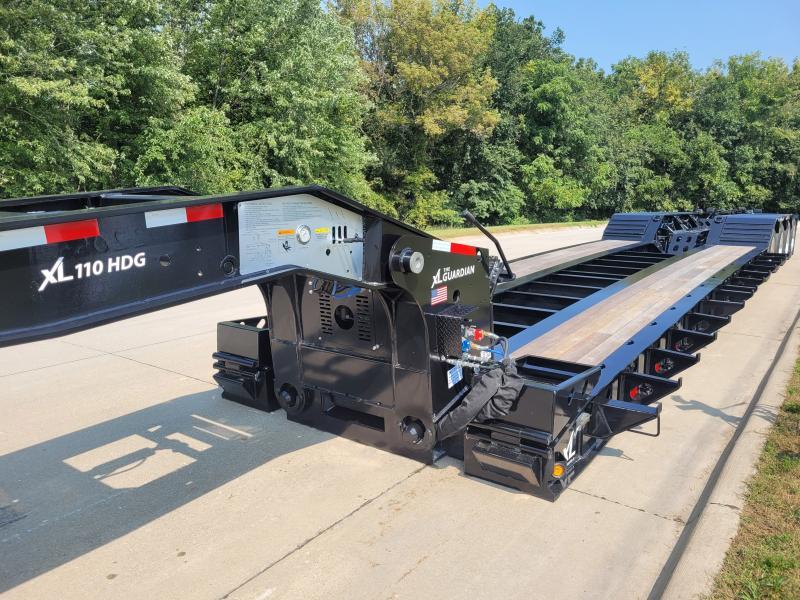 Image- The Guardian trailer is 53 ft. long and has a capacity rating of 110,000 lbs. in 12 ft. concentrated.
XL Specialized Trailers, un fabricant de remorques de transport lourd et spécialisées, a présenté la remorque XL Guardian 110 HDG, une remorque de construction standardisée qui est facilement disponible chez les concessionnaires.
Chaque aspect de ce lowboy à col de cygne détachable hydraulique à profil bas a été conçu en pensant à l'utilisateur, et il est conçu pour simplifier le processus de transport des équipements de construction.
"Bien que nous nous spécialisions dans la personnalisation de nos remorques, le Guardian est une nouvelle remorque passionnante pour nous, car il s'agit d'une remorque de série prête à prendre la route", a déclaré Tom Hiatt, directeur des ventes chez XL. "C'est un marché concurrentiel, mais nos spécifications, notre garantie et notre valeur sur le Guardian sont au top. Il conviendra parfaitement à n'importe quelle gamme."
Construit pour durer, les utilisateurs peuvent être confiants dans la longévité du Guardian lorsqu'ils transportent charge après charge. La remorque Guardian mesure 53 pieds de long et a une capacité nominale de 110 000 lb. dans 12 pi concentré.
La conception à col de cygne à profil bas offre une économie de poids et une polyvalence, permettant aux grattoirs de se charger par-dessus. Il comporte une découpe en relief, donnant aux ailes de camion beaucoup de dégagement, et deux réglages de pivot d'attelage amovibles qui ajoutent de la flexibilité à diverses configurations de camion. Sur le cou, une lampe de travail rotative éclaire la zone pour plus de sécurité et de visibilité lors du chargement.
Le col de cygne utilise l'hydraulique pour se détacher pour le chargement et le déchargement efficacement - et se reconnecte facilement après. Le lit principal offre un 22-in. hauteur du pont chargé. Les opérateurs peuvent ajuster la hauteur du pont pour diverses charges avec une hauteur de caisse variable à 5 positions dans le cou et une hauteur de caisse manuelle à l'arrière.
Le pont principal de 26 pieds de long et 8 pieds 6 pouces de large est construit avec une conception de poutre en I entièrement soudée, utilisant des brides 100K et des âmes 80K, ainsi qu'un renfort de bride supérieure. Le platelage apitong robuste et surélevé est conçu pour durer, tandis qu'une boîte à outils située à l'avant offre un endroit pour ranger les chaînes et autres matériaux.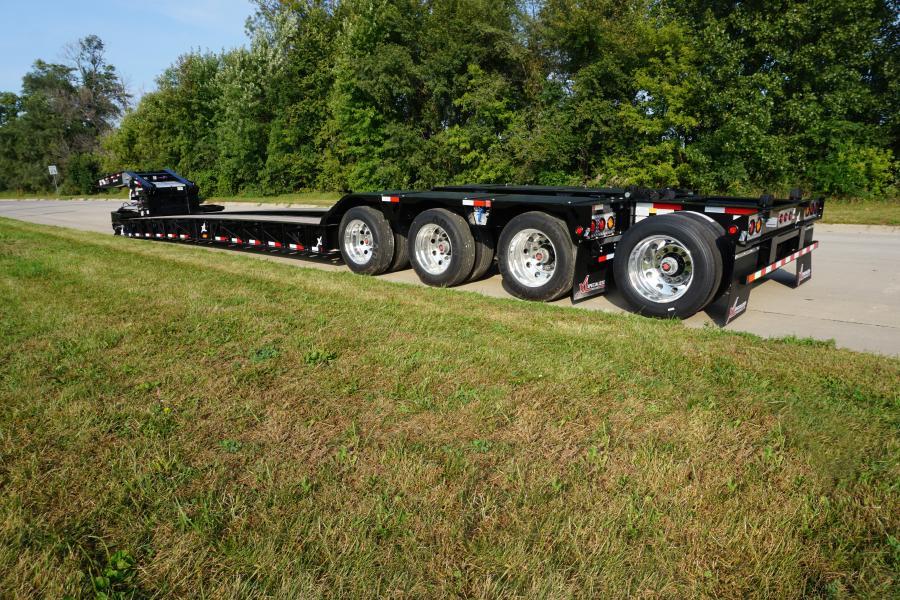 Image- The Guardian trailer is 53 ft. long and has a capacity rating of 110,000 lbs. in 12 ft. concentrated.
Les stabilisateurs pivotants robustes ajoutent 12 po de largeur de plate-forme de chaque côté pour une flexibilité dans la taille des charges. Les stabilisateurs se balancent au milieu du pont, créant un point de double stabilisateur solide au centre du pont, là où il est le plus nécessaire. Un stabilisateur avant robuste élimine le besoin de ranger et de transporter des stabilisateurs lâches.
A l'arrière du pont principal, les traverses encastrées forment un puits baquet. Combinée à la conception de la cuve à flèche ouverte dans la zone des roues, cette conception offre une solution pour transporter les excavatrices bas et en toute sécurité. Avec des anneaux en D placés à l'arrière du pont, la fixation est plus facile et plus efficace que jamais.
Cette remorque offre une grande polyvalence avec sa gamme d'options d'essieux. Le Guardian est une remorque à 3 essieux qui peut fonctionner seule ou avec un essieu basculant supplémentaire, une barre d'écartement et un retournement, un booster de puissance à un essieu ou un essieu basculant hydraulique. La nouvelle option d'essieu basculant hydraulique encastré boulonné de XL abrite le vérin hydraulique, basculant rapidement l'essieu sans avoir besoin d'un chariot élévateur. Cela permet un meilleur dégagement de chargement sur l'essieu basculant et un échange facile entre les essieux basculants et les boosters.
Le Guardian bénéficie de la garantie structurelle complète de 5 ans de XL, de la garantie de 3 ans sur la peinture et de 1 an sur les pièces. Ces unités sont maintenant disponibles chez les concessionnaires à travers les États-Unis.
NJC.© Info
----------------------------------------------------------------------------------------------------------------

07/02/23-English
XL Specialized Trailers Launches Guardian HDG Trailer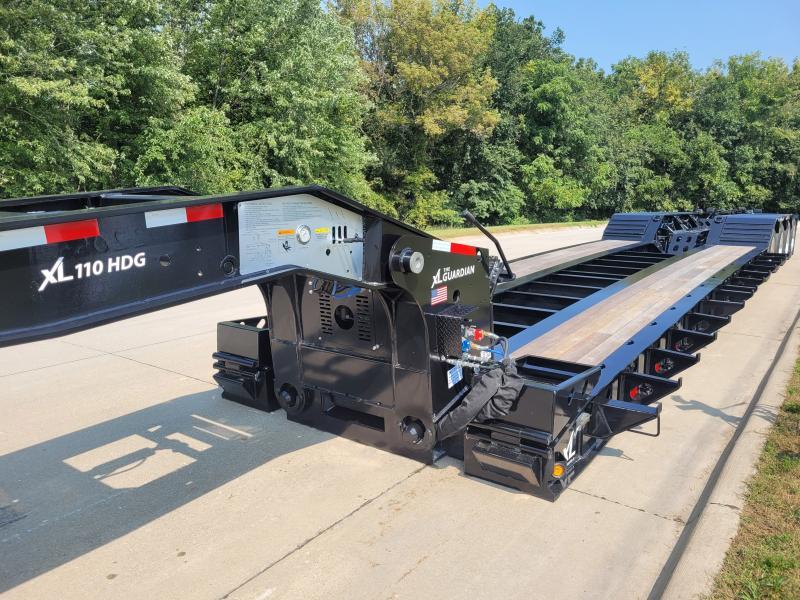 Image- The Guardian trailer is 53 ft. long and has a capacity rating of 110,000 lbs. in 12 ft. concentrated.
XL Specialized Trailers, a manufacturer of heavy haul and specialized trailers, introduced the XL Guardian 110 HDG trailer, a standardized construction trailer that is readily available at dealer locations.
Each aspect of this low-profile, hydraulic detachable gooseneck lowboy was designed with the user in mind, and it's made to simplify the process of hauling construction equipment.
"While we specialize in the customization of our trailers, the Guardian is an exciting new trailer for us, as it is a stock trailer that is ready to hit the road," said Tom Hiatt, director of sales at XL. "It's a competitive market, but our specifications, warranty and value on the Guardian are at the top. It will be a great fit in any lineup."
Built to last, users can be confident in the Guardian's longevity as they haul load after load. The Guardian trailer is 53 ft. long and has a capacity rating of 110,000 lbs. in 12 ft. concentrated.
The low-profile gooseneck design provides weight savings and versatility, allowing scrapers to load over the top. It features a relief cutout, giving truck fenders plenty of clearance, and two removable kingpin settings which add flexibility across various truck setups. On the neck, a rotating work light illuminates the area for added safety and visibility when loading.
The gooseneck uses hydraulics to detach for loading and unloading efficiently — and easily reconnects after. The main bed offers a 22-in. loaded deck height. Operators can adjust the height of the deck for diverse loads with a 5-position variable ride height in the neck and manual ride height in the rear.
The trailer's 26-ft.-long, 8-ft.-6-in.-wide main deck is constructed with a fully welded I-beam design, using 100K flanges and 80K webs, as well as upper-flange reinforcement. The rugged, raised apitong decking is built to last, while a toolbox located in the front provides a place to store chains and other materials.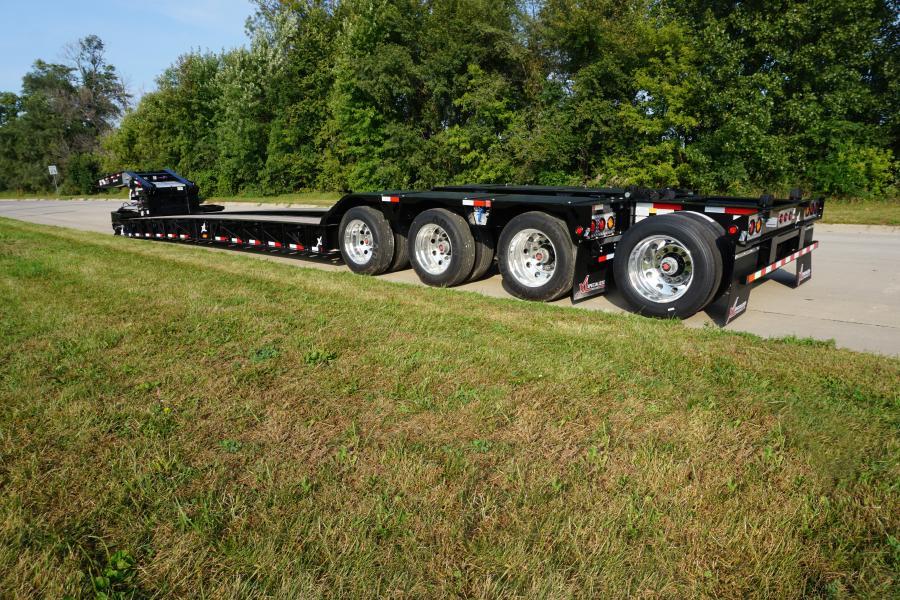 Image- The Guardian trailer is 53 ft. long and has a capacity rating of 110,000 lbs. in 12 ft. concentrated.
Heavy-duty swing-out outriggers add 12 in. of deck width on each side for flexibility in the size of loads. The outriggers swing to the middle of the deck, making a strong double-outrigger point in the center of the deck, where it is needed most. A heavy-duty front pull-out outrigger eliminates the need to stow and carry loose outriggers.
In the rear of the main deck, the recessed cross-members make a bucket well. Combined with the open boom trough design in the wheel area, this design provides a solution for transporting excavators low and safe. With D-rings placed throughout the rear of the deck, securement is easier and more efficient than ever.
This trailer offers great versatility with its range of axle options. The Guardian is a 3-axle trailer that can be run by itself or with an added flip axle, a spreader bar and flip, a single-axle power booster or a hydraulic flip axle. XL's new bolt-on recessed hydraulic flip axle option houses the hydraulic cylinder, quickly flipping the axle without the need for a forklift. This allows for better loading clearance over the flip axle and easy swapping between flip axles and boosters.
The Guardian is backed with XL's full 5-year structural, 3-year paint and 1-year parts warranty. These units are now available at dealer locations across the United States.
NJC.© Info
---------------------------------------------------------------------------------------------------------------

07/02/23-NL
XL Specialized Trailers lanceert Guardian HDG-trailer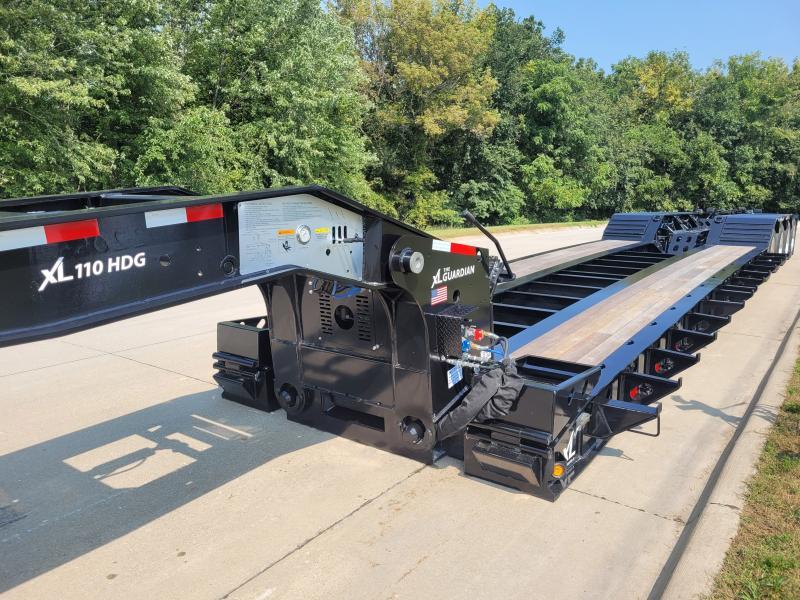 Image- The Guardian trailer is 53 ft. long and has a capacity rating of 110,000 lbs. in 12 ft. concentrated.
XL Specialized Trailers, een fabrikant van heavy-duty en gespecialiseerde trailers, introduceerde de XL Guardian 110 HDG-trailer, een gestandaardiseerde bouwtrailer die direct verkrijgbaar is bij dealers.
Elk aspect van deze low-profile, hydraulisch afneembare zwanenhals dieplader is ontworpen met de gebruiker in gedachten, en is gemaakt om het proces van het trekken van bouwmachines te vereenvoudigen.
"Hoewel we gespecialiseerd zijn in het aanpassen van onze trailers, is de Guardian een opwindende nieuwe trailer voor ons, aangezien het een voorraadtrailer is die klaar is om de weg op te gaan", zegt Tom Hiatt, verkoopdirecteur bij XL. "Het is een competitieve markt, maar onze specificaties, garantie en waarde op de Guardian staan bovenaan. Het past uitstekend in elke line-up."
Gebouwd om lang mee te gaan, kunnen gebruikers vertrouwen op de lange levensduur van de Guardian terwijl ze lading na lading vervoeren. De Guardian-trailer is 16 meter lang en heeft een capaciteit van 110.000 lbs. in 12 ft geconcentreerd.
Het onopvallende zwanenhalsontwerp zorgt voor gewichtsbesparing en veelzijdigheid, waardoor schrapers over de bovenkant kunnen laden. Het heeft een reliëfuitsparing, waardoor de spatborden van vrachtwagens voldoende speling hebben, en twee verwijderbare kingpin-instellingen die flexibiliteit toevoegen aan verschillende vrachtwagenopstellingen. Op de nek verlicht een roterend werklicht het gebied voor extra veiligheid en zichtbaarheid tijdens het laden.
De zwanenhals maakt gebruik van hydrauliek om los te koppelen voor efficiënt laden en lossen - en kan daarna eenvoudig weer worden aangesloten. Het hoofdbed biedt een 22-in. geladen dek hoogte. Bestuurders kunnen de hoogte van het dek aanpassen voor diverse ladingen met een variabele rijhoogte in 5 standen in de nek en handmatige rijhoogte achterin.
Het 26-ft.-lange, 8-ft.-6-in.-brede hoofddek van de trailer is geconstrueerd met een volledig gelast I-balkontwerp, met behulp van 100K flenzen en 80K lijven, evenals versterking van de bovenflens. Het robuuste, verhoogde apitong-terras is gebouwd om lang mee te gaan, terwijl een gereedschapskist aan de voorkant een plek biedt om kettingen en ander materiaal op te bergen.
Heavy-duty uitzwenkbare stempels voegen 12 inch dekbreedte toe aan elke kant voor flexibiliteit in de grootte van ladingen. De stempels zwenken naar het midden van het dek en vormen een sterk dubbel stempelpunt in het midden van het dek, waar dit het meest nodig is. Een heavy-duty uittrekbare steunpoot aan de voorkant elimineert de noodzaak om losse steunpoten op te bergen en te dragen.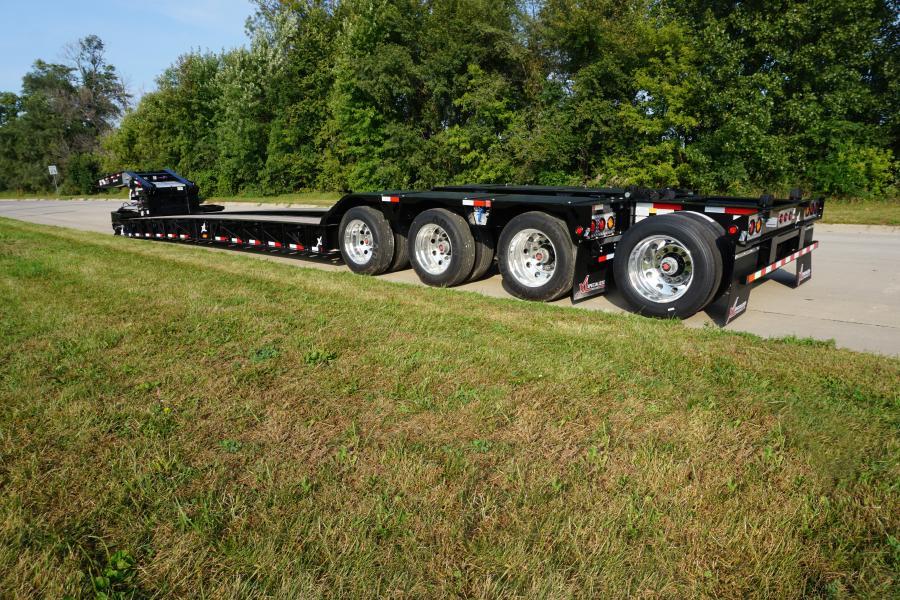 Image- The Guardian trailer is 53 ft. long and has a capacity rating of 110,000 lbs. in 12 ft. concentrated.
Aan de achterkant van het hoofddek vormen de verzonken dwarsbalken een bakput. Gecombineerd met het open giekgootontwerp in het wielgebied, biedt dit ontwerp een oplossing om graafmachines laag en veilig te transporteren. Met D-ringen die over de hele achterkant van het deck zijn geplaatst, is bevestiging eenvoudiger en efficiënter dan ooit.
Deze aanhangwagen biedt een grote veelzijdigheid met zijn reeks asopties. De Guardian is een 3-assige aanhangwagen die op zichzelf kan rijden of met een toegevoegde knikas, een spreidbalk en klap, een eenassige powerbooster of een hydraulische klapas. XL's nieuwe, vastgeschroefde, verzonken hydraulische opklapasoptie bevat de hydraulische cilinder, waardoor de as snel kan worden omgedraaid zonder dat een vorkheftruck nodig is. Dit zorgt voor een betere laadruimte over de opklapbare as en eenvoudig wisselen tussen opklapbare assen en boosters.
De Guardian wordt gedekt door XL's volledige garantie van 5 jaar op constructie, 3 jaar op verf en 1 jaar op onderdelen. Deze units zijn nu verkrijgbaar bij dealerlocaties in de Verenigde Staten.
NJC.© Info
-----------------------------------------------------------------------------------------------------------------